With some products there are never ending possibilities. Take our X-Grid® for example; it can be used for driveways, paths, access routes, large car parks and even under hot tubs and garden buildings. Yet some customers who buy our panels still find new ways to use our product that might have not even crossed our mind. This is why being a manufacturer and supplier is so rewarding, innovative customers constantly using your products in new and exciting ways! Rubber Grass Mats are another great example of this and we have created this blog to show off our customers amazing uses of our products.
Jump To:
Rubber Grass Mats
Our Rubber Grass Mats are available in two sizes – 16mm and 23mm thick – are one of our most popular products. They are a fantastically versatile product which can be used in almost any project.
This blog will be showcasing just a few unique uses for the mats, some that even we hadn't thought of! Available to buy online right now, our rubber grass protection mats are made of 100% recycled rubber, have a critical fall height of at least 1m and can be delivered to your door in 3 days (standard delivery) or the next working day (if ordered before 1pm on a working day).
As well as being a supportive and safe surface, the mats allow for surface water to drain away naturally as they keep drainage routes open thanks to its open structure. Also, due to the mats open structure any grass beneath is able grow through to maintain the area's natural appearance. Our first customer in this blog is Ryan, read on to see how he used our mats!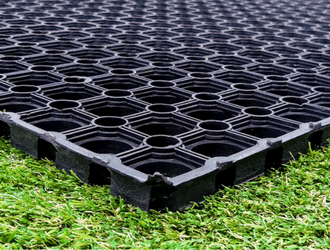 Ryan – Outdoor Gym Flooring
First up is Ryan. Wanting to have his own gym/exercise space at home, Ryan was struggling for indoor space. So he decided to have it outside, finding a suitable flooring solution was the only issue he stumbled across. Needing a solid flooring that would be strong enough to hold machines and also not break or smash should weights or equipment be dropped onto it was incredibly important.
Which is when Ryan found our website and decided to use our Rubber Grass Mats, which are supportive enough to hold the heavy equipment but soft enough to cushion a fall without being damaged.
The perfect gym solution from an unlikely source!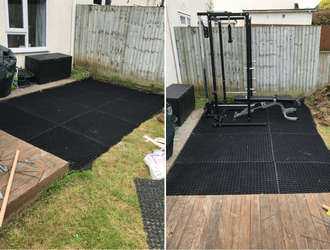 Shirley – Corner of a Horse Paddock
Next is Shirley, just like X-Grid® our rubber grass mats can be used for a number of equestrian applications such as; ménages, walkers or even paddocks. Shirley was looking for a product to floor the corner of her paddock where she could stand and get the horses ready. As the corner would be heavily used, after just a few days it would become a muddy mess and become almost unusable.
Shirley ordered 20 Rubber Grass Mats from us on the 11th May and received them on the 15th May. She set about installing them immediately and had done so after around 10 minutes. She told us how simple they were to handle and install and how pleased she was with the performance of the mats.
"Took 10 minutes to install! Does the job perfectly. That area would have been a muddy mess by now. Highly recommend."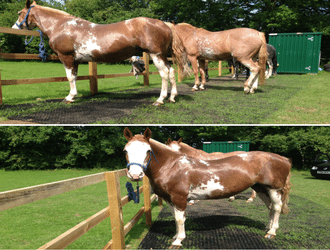 Peter – Flooring Infront Shipping Containers
Peter got in touch with us a few months ago looking for a paving product. The path would be laid in front of a shipping container used to store archery equipment for Peter and his club. The purpose of the path was to protect the grass in front of the crate where a visible ditch had appeared due to heavy equipment coming in and out of the crate and damaging the grass.
This is when Peter researched and found our Rubber Grass Mats which were incredibly easy for them to install. After a few weeks they were almost invisible too thanks to the open structure of the mats allowing the turf below to grow through.
The mats are providing a great path and protection system that everyone involved with the archery club are incredibly pleased with.
"They are working perfectly and were very easy to install. We are quite delighted with them."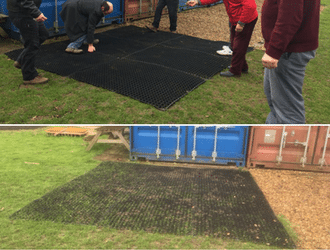 Hill Holt Wood – Outdoor Classroom
Finally are Hill Holt Wood, after using our rubber grass mats for a previous project (Rubber Grass Mats Forest School Installation) they ordered more for a different school project. This time they would be creating an outdoor classroom on school grounds that would allow children to be taught outside and discover nature at the same time. Used as a paving solution to allow access to wheelchairs and any equipment that could need to be brought in, our mats allow for everyone to be involved with the outdoor lessons.
We are delighted that Hill Holt Wood continue to use us as their supplier of paving solutions. We are also very proud that our products ensure everyone can access the areas regardless of their situation. As you can see from the photos, the outdoor classroom looks fantastic and the children from this school have the best opportunity to learn outside now.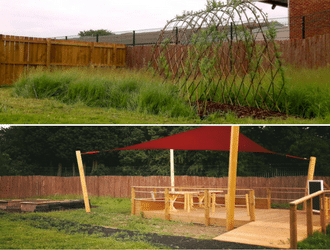 We would like to say a huge thank you to everyone for sending in their photos of their project. Should you have any photos of our products in use or any questions regarding our products then please do not hesitate to contact us.