As you can see from the above image, a Pony is eating from our Grass Mats. We donated a number of mats to Amate Animalia who are a registered, volunteer run charity (1164303) based in the Cotswolds. Their main focus is rescuing and rehabilitating exotic animals (and also take in some domestic species too, although they specialise in exotics).
They currently have over 119 species including mammals, lizards, amphibians, invertebrates, snakes and birds. As well as caring for animals, they do 'Pets as Therapy' visits for disabled children and adults as well as educational talks for schools & universities. Part of their Pets as Therapy team are Shetland ponies who visit people in care homes and hospices.
Jump To:
The Project
 This project started when a member of the Amate Animalia team contacted our customer service team and began enquiring about our grass mats. After a long conversation including what & why the mats would be used, we donated the amount required and dispatched them along with
cable ties
and
fixing pegs
the same day.
We were told how the grass mats would be used in the pony paddock for Charlie and Jim as they needed a non-slippery and padded surface to walk on. The mats were also to be used for their many exotic mammals to rest and move on after surgery to protect their wounds and promote successful recovery. Some of the mats were also to be used as walkways and access routes so volunteers did not trip or slip whilst working.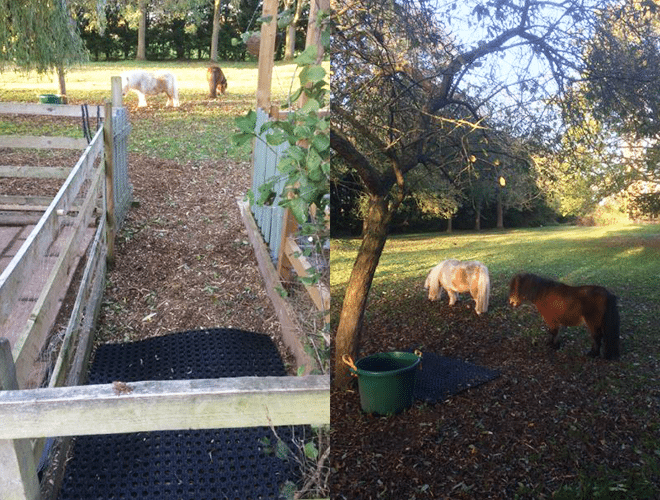 The Work
The charity received their grass mats three working days after they had been dispatched from our warehouse. As soon as they arrived, the team set about installing them in the correct places. Three grass mats were installed in the pony paddock by the entrance, feeding station and stable which you can see in the photos attached. The team told us how simple the mats were to install and secure in to the ground using the fixing pegs and cable ties.
Next, the walkways were installed which you can see on the second to last photo to ensure that no staff would slip or trip when in the pony paddock. Again the mats were simple to secure in to the ground and there has been no movement at all since they were installed.
Finally, although there are no images, they installed the last grass mats in a recovery area to allow post-surgery animals to move freely and rest without the risk of further injury to their wounds. Again these were installed using cable ties and have not moved since being installed. The entire project was a complete success we have been told!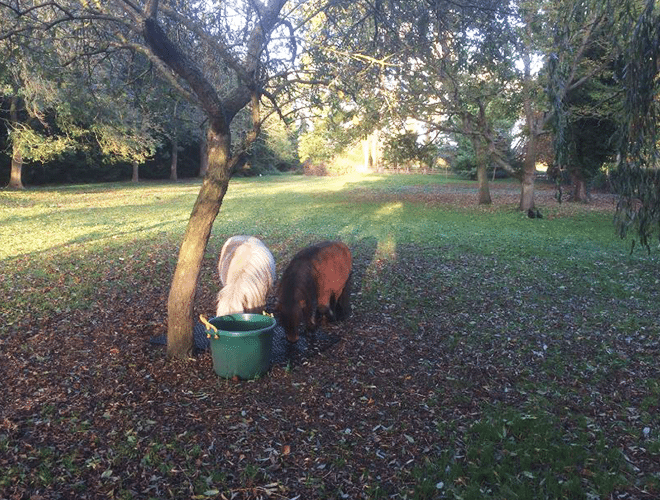 Conclusion
Everyone at Amate Animalia are very pleased with the grass mats and how they have helped the animals they care for. Charlie the pony is especially pleased as he has problems with his knees and need a non-slip and padded surface to walk on especially in winter!
We are all very happy that our grass mats have been used to help so many people and animals that needed it! Should you have any questions regarding the work Amate Animalia do including their therapy sessions, do not hesitate to contact them. Finally should you have any questions regarding our mats or other products then please do contact us too.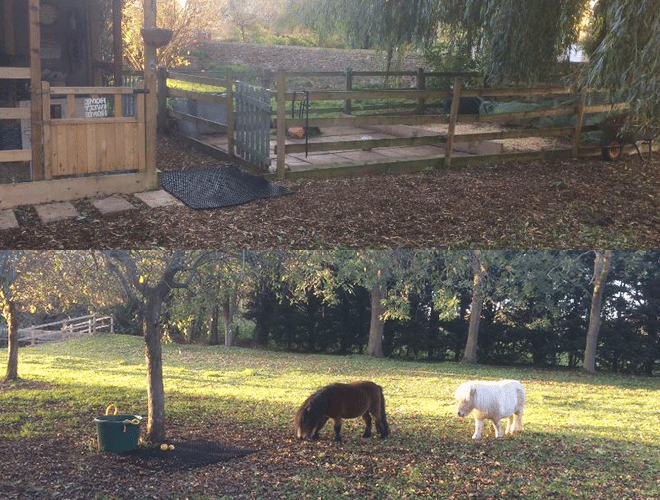 Bonus Photo of Charlie & Jim on Our Grass Mats: