With summer now in full swing, there is no better time to get your garden in order. Since the British heat never seems to last more than a month or two you should get moving with any projects you have in mind. This is what our customer in this blog did, having decided there was something needed in his garden, he acted quickly ordering Plastic Lawn Edging from us and installing it not long after receiving them. Read on to see how Brad decided to use our plastic lawn edging in his garden and his thoughts on the product and the project overall.
Jump To:
The Project
Brad got in touch with us earlier in the year after identifying that he needed to somehow separate his lawn and flower bed. The soil had started to slightly spill over into his grass and this was something that wanted to be avoided. After a browse on the website Brad decided to use our Plastic Lawn Edging which is used to create a barrier between lawns, flower beds and much more. Along with the edging, Brad ordered 6 Plastic Nails with each length of edging. Delivered on a standard service, Brad received the lawn edging 3 days later and could begin his installation as soon as he wanted.
Read on to see the process Brad went through to install the edging.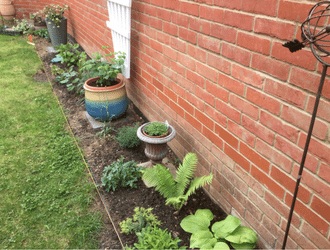 The Work
Brad started off his project as most people start their work by outlining where the product will be put and marking it out using string or wood. From here, using a trowel Brad dug a straight line across the string and along the lawn. This created the edge where the edging would be installed to create the defined edge.
The plastic edging is then installed up against the lawn one piece at a time. With each piece placed down they are clipped together and then covered in soil to hide the support part of the edging. As you can see from the images, when covered fully the edgings are almost invisible which improves the look of the lawn edge and the flower bed.
So whilst being made of 100% recycled plastic, not only is our edging environmentally friendly but it also long lasting and hardly visible once installed.
With the edgings installed and covered with soil, all that was left to do was to dispose of the removed turf and tidy around the garden!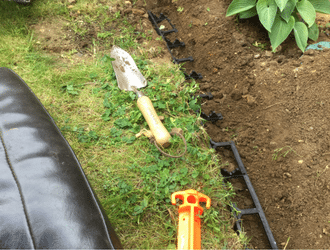 Conclusion
Brad was extremely happy with the lawn edging product and how the project turned out. As you can see from the photos the edging is doing its job very well and makes Brad's garden look even better thanks to the defined edge of the lawn.
"It is an excellent product, I am very pleased with it and the wife is pleased. RESULT!"
We would like to say a huge thank you to Brad for using our lawn edging and for taking and sending in the photos of his project.
Should you have photos to send into us or have any questions regarding our products then please do not hesitate to contact us.