Our Rubber Grass Mats have a primary use of being placed around play areas or exisiting walk ways. They're used to soften any impact from tripping or falling, our 23mm grass mats have been tested and found to have a critical fall height of 3.3 meters. Making them perfect for higher climbing frames and play areas where they chances of falling are much higher. However in this case study our grass mats are used as a walkway to give students access to outdoor classrooms. Read on to see what the School and Brad from Hill Holt Wood thought of our product!
Jump To:
The Project
Hill Holt Wood approached us in January 2017 as they were looking for a suitable product to help with their next project. Brad spoke to us and explained how 'Grantham Additional Needs Fellowship' (GANF) had started using their woodlands as a Forest School for the pupils, so needed a suitable pathway to enable everyone access around the woods. The paths had to be wheelchair friendly, permeable and moveable in case they needed to be removed or altered slightly. This ruled out more permanent solutions such as concrete. In the end 67 of our Rubber Grass Mats were ordered along with our Plastic Pegs and Cable Ties.
There were 3 projects that needed to be pathed appropriately. One project was based outside of Grantham in a village called Wyville, the second at Ambergate College in Grantham and the third at the Priory School in Spalding.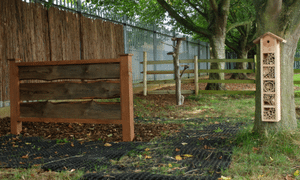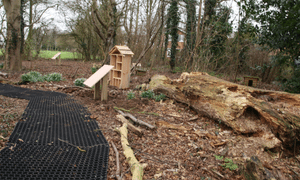 The Work
Hill Holt Hill have a large team, so laying and fixing in place the 16mm rubber grass mats wasn't too big of an issue. Supplying the pegs and ties along with the grass reinforcement mats was very convenient for Brad and the team as they didn't need to go out and find items from multiple stores! They laid the mats throughout the wood, from their reception areas to sensory areas and classroom areas.
By using our product, this ensured all of the students could be included in the Forest School and learn more about the outdoors and adventure together! As you can see from some of the photos, the grass and underlying plants are able to grow through the holes in the mat. Meaning they blend into their surroundings and are less noticeable in such a beautiful woodland area.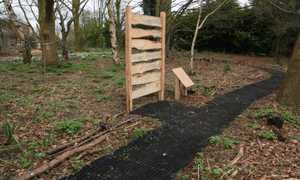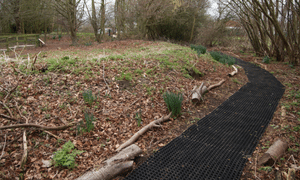 Conclusion
Once the projects were complete we spoke to Brad again to see how everything went. He told us how pleased both they and the School were with how the paths had turned out. They didn't stand out and take the attention away from the surrounding woodland. However they did the job they were bought for and have been incredibly helpful in making sure every student can access each area of the Forest School.
We as a company are incredibly proud that our product has helped so many students, that otherwise may have struggled to be involved in the Forest School due to the previous access issues, to fully join in with any outside sessions that can further their education!
A big thank you to Brad and the Hill Holt Wood team for sending in the information and the photos!