When setting out on any project there are a number of things to be wary of, from the price of the project, to the difficulty of the project, the products required and how the project will affect the surrounding area. The latter is very important when replacing natural drainage such as turf and soil as this could lead to future flooding should a suitable replacement not be put in place. This project was very well thought out and the replacement for the turf was just as permeable as the turf. Resin bound and X-Grid are both SuDS (Sustainable urban drainage system) complaint, meaning any rain water or excess water will be able to drain away naturally just as before.
Jump To:
The Project
With just a few paving stones installed in front of the back door and the patio doors, David's customer was looking for an over hall of the patio area. There were a number of options to take such as decking, loose gravel, concrete or resin bound. As resin bound is incredibly strong, attractive and also permeable there was no real contest in which should be installed. The customer did decide on resin bound, and so David set about acquiring the sub-base for the resin bound.
Needing a permeable and strong sub base was essential, which is when he discovered X-Grid. X-Grid is made of 100% recycled plastic and can withstand up to 420 tonnes per sqm whilst having a 70% open structure to allow water to drain away naturally. As well as being incredibly efficient, X-Grid is also very simple to install thanks to the peg and slot system which means the panels can be simply laid and attached together. Read on to see how David installed the X-Grid and Resin Bound surface.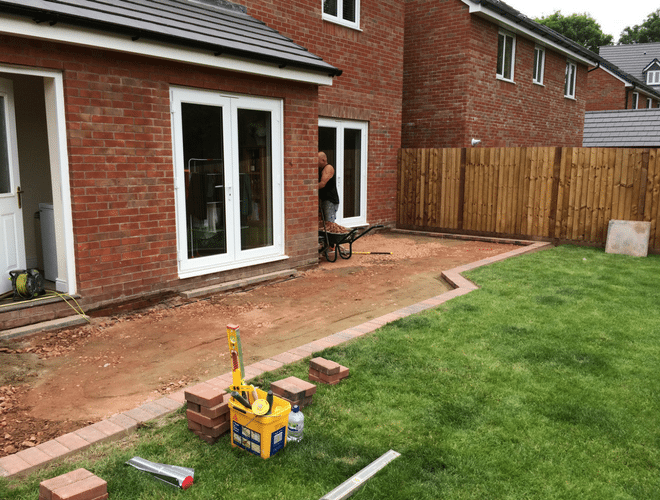 The Work
David began the project by outlining and then excavating the patio area where the resin bound would be installed. To separate the remaining turf and the patio David created a brick work edging which compliments the finished resin bound colour very well. With the two areas now separated the ground preparation could begin.
A layer of large pieces of broken rock were laid as the foundation, this layer was then evenly distributed and made as true as possible before a second layer of hardcore was laid on top. The hardcore was then whacked using a rented Whacker to create a solid and flat surface on which the X-Grid and resin can be installed. Ensuring the sub-base is solid is a vital part of the project because without a solid base, when weight is applied the panels could move around due to not being properly supported.
Next, it was time to install the X-Grid. As the patio was not the same width the entire length, the panels had to be trimmed to fit which is easily done using any hand saw. Starting in one corner, David laid the X-Grid and simply attached each piece as he went along using the simple slot and peg system until the entire area was covered with our permeable panels. One of the easiest parts of the job!
Finally, the resin bound paving was to be installed. Mixed using a forced action mixer, resin bound has to be laid quickly and precisely as it is a quick drying product. It can be incredibly expensive to put right should it be installed wrong, which is why it is always a good idea to use a trained professional such as David from Cameron Paving In Wales. David laid the resin at depth of around 18mm and then left it to set. As you can see from the photos in the case study, David did a fantastic job of his customers patio.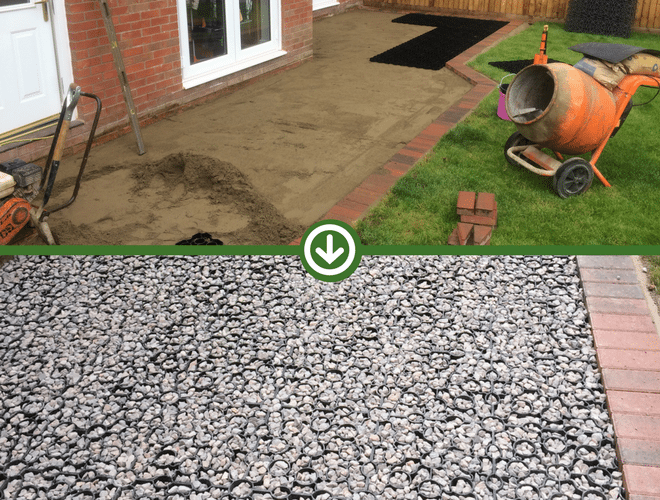 Conclusion
We're sure you will agree that the customers new patio looks fantastic, a very stylish finish with many benefits that will help the surrounding area for years to come. Although only a small part of the job, David was very impressed with the X-Grid as it was incredibly easy to use but very effective in its purpose.
We would like to say a huge thank you to David for sending us the information and photos to be able to create this case study. Should you have any photos or questions regarding our products or case studies then please do contact us.