When making changes in your garden there are a number of things that need to be taken into consideration. Firstly, is if things are to removed or replaced such as a shed or a garage, then where will the old one be disposed of and what will be put in its place. Without the correct replacement your garden can be left looking a little lacklustre and in need of some livening up, this was the issue Trevor was having in this blog post. With his old garage being removed and a concrete base being left, he needed a new feature in his garden to take its place. Read on to see what Trevor decided.
Jump To:
The Project 
When it comes to creating a path or a large area of paving there are a number of potential issues that you must wary of. Before starting any project you need to be aware of possible problems you may encounter before, during or after the project.
So when Trevor got in touch with us as he was looking for a paving system to cover his old garage base and create paths around the garden which would be supportive under foot, attractive and permeable. We recommended our X-Grid® which can hold up to 420 tonnes per square metre, be filled with decorative gravel and allows any water to drain away naturally for a great looking effective path.
Read on to see how Trevor got on using X-Grid Paving in his garden.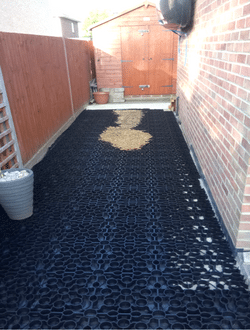 Path To The Shed
Trevor had a path leading the entire way around his garden, from the shed to the back of the lawn. He needed a product that could be easily cut to shape whilst still being strong enough to walk on which is why he decided to use X-Grid®. Trevor started by laying a panel in one corner and moving along slowly attaching one panel at once, easily clipping them together until most of the path had been filled. He then had to trim the remaining panels to fit them into the small gaps left around the garden path. This was very easy to do using a hand held saw.
Once the entire path had been filled with X-Grid paving panels, Trevor filled the path with decorative gravel to improve the look of his path whilst still allowing for any excess water to drain away naturally like a French drain system. With the path now complete it was time for Trevor to replace his Garage.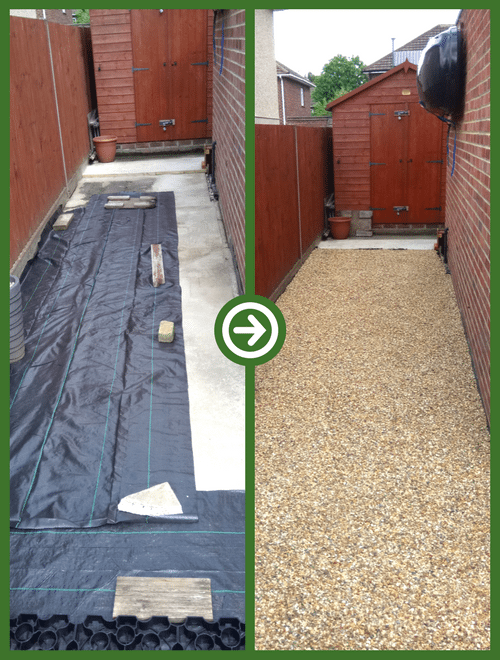 The Gravel Patio 
Replacing a large building like a garage or a shed can leave your garden looking a little empty or lacking character at times, which was the issue Trevor was facing when his old garage was removed. Leaving a plain concrete base in the middle of the garden, Trevor needed a new use for this empty space so decided on large flower beds which you can see in the photos. With the use decided, a suitable flooring was needed that would be strong but also keep surface water away from the wooden supports to lessen the chance of rotting.
Trevor laid the X-Grid® straight onto the concrete base as taking the base up would have either been expensive or labour intensive. Having a solid sub-base does take away some of the grids permeability as water cannot flow away as naturally but still works very well. Trevor started in the bottom corner of the patio and laid each piece as he went along simply clipping them together until the patio was fully covered. He told us how easy the panels were to use and attach together.
With the patio covered in grid Trevor then filled the panels with decorative gravel – around 8kg of gravel is needed to fill each panel of X-Grid®.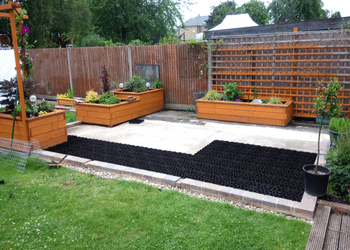 Conclusion
Trevor is extremely happy with the finished project and how well the X-Grid® has performed, along with how easy it was to install!
"Very pleased with the X-Grid® product, it was simple to lay and the quality appears superior to all of the other products we looked at. I have already recommended X-Grid Paving to the builders merchant I use, and in turn they have recommended a client!"
As you can see from the photos in this article, Trevor's garden looks fantastic and is now both attractive and effective. We would like to say a huge thank you to Trevor for the images and information he provided us with to create this blog post.
Should you have any photos of your project you would like to share with us or any questions regarding our products then please do not hesitate to contact us.