As with most landscaping, groundwork and DIY products there will always be customers who use your product in a way that won't have even crossed your mind. For example, using a gravel retention paving grid in the bottom of a 10ft aquarium or using a rubber tile as a bullet backstop for shooting targets! This will be our second blog celebrating the fact that our products can be used in so many ways. In our last blog we looked at mats being used for an outside gym, outside classroom and even within an equestrian area. Read on to see how our customers have used our Rubber Grass Mats this time;
Jump To:
Rubber Grass Mats
Our Rubber Grass Mats (available in two sizes, 16mm and 23mm) are constantly used for purposes we never thought they would be used for. From being used as walk ways, protective flooring under play areas to creating outdoor gyms in someone's garden. Just when we think we have seen all the uses for our product there is, a customer will come along and show us a new way to use it! This is the same with our other products such as X-Grid® and Rubber Play Tiles.
This is the second blog created showing how our mats have been used differently, click here to read our Versatile Rubber Grass Mats Blog. Read on to see how our customers in this blog have used our products;
Nikki – Playarea
First up is Nikki, after buying her children a new swing set to play on she decided they needed a suitable safe flooring to support and sit under the swings should anyone fall off. The 23mm mats have a critical fall height of up to 3.3 metres so there is little chance of anyone being injured should they fall onto our mats.
To start Nikki planned out where she would stand the rubber mats and the swing and began removing the existing paving stones in that area. From here she filled the now clear area with a small layer of bark chippings and compacted them down to ensure the rubber mats would be stood on a flat and solid sub-base. Each mat was then secured into place using Plastic Fixing Pegs to ensure that when walked on there is no movement. Once all of the mats were installed they were connected together using Cable Ties to again ensure that no gaps appear between the mats and that there is no movement.
The rubber grass mats provided Nikki's childrens with a safe area to play on, which should any trips or falls occur, will not be met with a hard landing and potentially serious injury.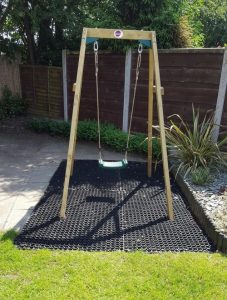 Aidan – Walkway
Next up is Aidan, he and his company were looking for a product that would create an all weather walkway which lead down the side of some temporary fencing on grass. As they didn't want to permanently affect the existing turf a product that would not damage the grass whilst still keeping a natural look was essential. After searching the internet they found our website and our grass protection mats that met every need they had.
To install the mats they simply laid the mats end to end along the pathway and connected them together using cable ties to ensure that when walked on there would be no separation or movement. With the mats now tied together they began securing the mats into the ground using plastic fixing pegs that are inserted through the holes in the mat and into the turf below to create a solid flooring that does not move when walked on.
The rubber grass mats have created a great pathway for everyone to use in all weather which would not have been possible if not for our mats.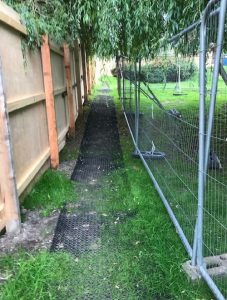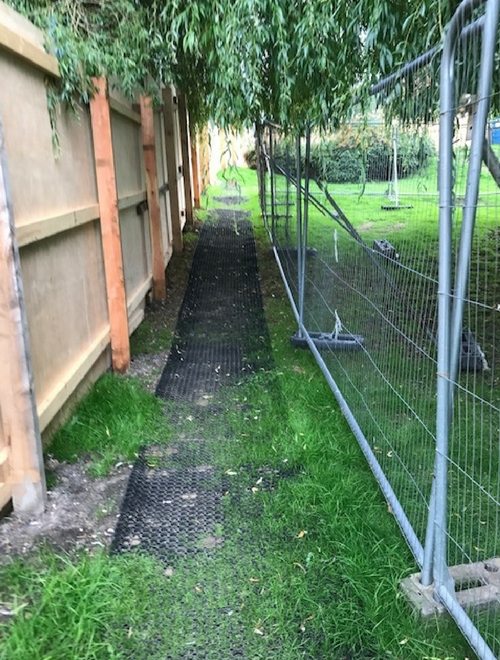 Conclusion
Aidan and Nikki are incredibly happy with their rubber grass mats and how they have been performing so far. For both of their requirements our rubber grass mats have been fantastic and solved the issues they initially faced.
Nikki told us; "We would recommend your rubber grass mats. Super fast delivery. Easy to cut to size. We will use you again for future projects."
Aidan told us; "Please see photos of your rubber grass mat being utilised. This has been an extremely helpful product."
We would like to say a huge thank you to Nikki and Aidan for the fantastic photos and information they chose to share with us to enable us to create this case study. Should you have any photos to share with us or any questions regarding our products then please do contact us.