Golf courses are usually far busier during the summer months, because a sport, good weather is needed to have the perfect round of golf. Wind and rain do hinder your chances of putting in a good performance, but luckily for members at Glynhir Golf Club, Graham had been thinking ahead and began planning to install all weather tees for every hole on the course. So all year round there will be no problems at each tee off thanks to the fantastic work Graham and his team have put into the course this year. Read on to see what product Graham used and how the project turned out.
Jump To:
The Project
Graham got in touch with us earlier this year as he was needing a solution to his winter golfing problems. Based in the Carmarthenshire countryside and just north of Swansea, Glynhir Golf Club does encounter a large amount of rain during the winter months (just like the rest of the UK) which can mean the course isn't able to be played on. This is why Graham and the club decided to use our Rubber Play Tiles to create winter tees on all 18 holes, meaning all year round the course would be suitable for use as long as there is no flooding or obvious puddling anywhere else on the course. Graham later told us he chose our tiles as he needed a system that wasnon-slip, easy to wash down and could be easily replaced if damaged. Our tiles meet all three of those requirements.
Graham ordered Green and Black Rubber Play Tiles on the same day he found our site, Graham qualified for free delivery and received his tiles three working days later. Read on to see how he installed the play tiles;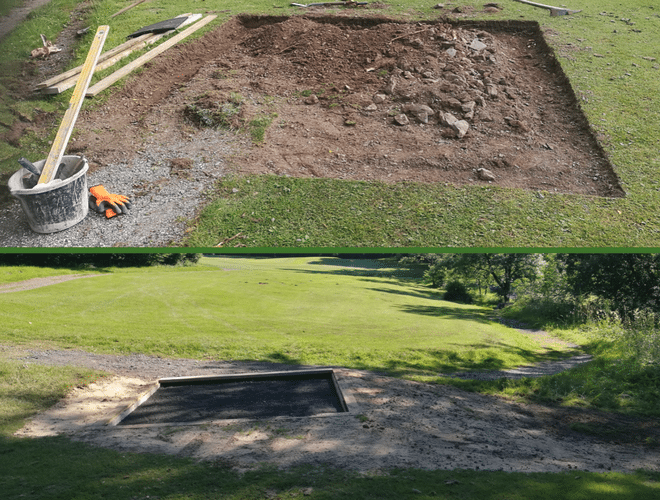 The Work
Graham and his team unpacked the Rubber Play Tiles and divided them up to be able to cover all 18 tees. Graham then told us how they prepared the tees before installing the play tiles;
"We excavated the tee area and laid in new tanalised railway sleepers on a layer of concrete to form the perimeter of the tee. From here a layer of hardcore was laid in the area and a 3 inch concrete screed was laid on top and this finished flat 1 inch below the level of the sleepers. We left the 1 inch gap to form a recess for the tiles to sit in and be flush against sleepers."
From here Graham and his team installed the tiles around the edge of each tee which left a gap in the middle for a heavy duty astro turf driving mat. The tiles were very simple to install using the interlocking pegs to attach the tiles together and polyurethane glue to keep the tiles secure and ensure there is no movement when stepped on.
All that was left to do was to repeat this on the remaining 17 holes!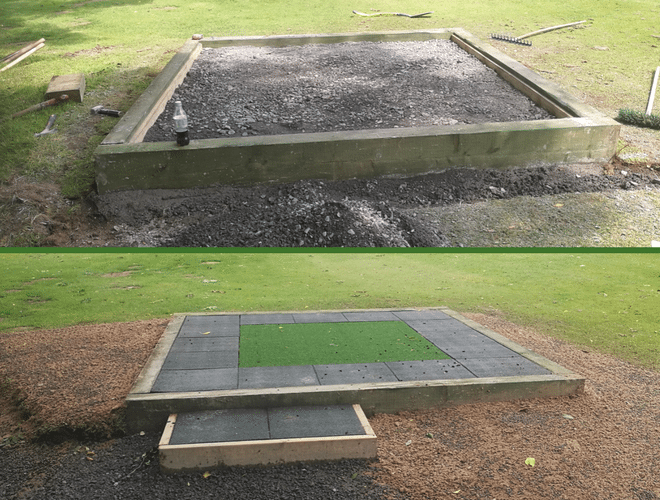 Conclusion
Graham and the rest of the golf club are incredibly happy with how their winter tees have turned out. After setting out on their search for a non-slip, easy to wash down and easily replaceable system to create their tees they now have their all weather tees ready for use all year round!
We would like to say a huge thank you to Graham and all of Glynhir Golf Club for using our rubber play tiles and for sending us the photos and information to create this case study. Should you have any photos or information to share with us or any questions regarding our products then please do not hesitate to contact us.