Permeable paving mats are a really simple and easy way to enhance your driveway, improve your garden, or protect a pathway and decrease the amount of maintenance necessary on an outside area.
These permeable paving grids are a cheap and low maintenance way of improving your driveway, pathway or any outside area. Made from 100% recycled plastic, they're strong, durable and lightweight. Perhaps their biggest draw though, is their cost. As a relatively cheap way to transform an outdoor area, there's no wonder it's one of the most popular methods.
Each panel easily connects together with a simple interlocking system and, once connected, they can then be attached securely to the protective ground sheet. These grass or gravel driveway grids should be laid on a flat surface and then filled with either gravel or soil and then grass seed.
You'll benefit differently from the grids depending on your choice of filling. With gravel grids, for example, you'll no longer suffer gravel migration as the cellular structure of each grid ensures the gravel remains tightly compact and therefore limits migration.
With a grass filled driveway grid, you'll no longer have to deal with bald patches or erosion – especially problematic during wetter weather – as the reinforcement grids protect each blade of grass at the root which means it's only the blades themselves that're exposed to impact from traffic.
As mentioned earlier, these paving grids are made from 100% recycled plastic which not only means they'll last for years, they're also avoiding their inevitable final destination of landfill. It takes around 450 years for plastic to breakdown in landfill, so it makes sense to recycle and help the environment at the same time.
Another great feature of our paving grids is that they're available in a number of colours which means they can bring a splash of colour or blend well into the background. Available in black, green or natural, these pavers are unseen as soon as the grass has been allowed to grow through or they've been filled with gravel. However, if you want to be sure not to see them, we recommend the natural white grids for a gravel filling and green for a grass filling.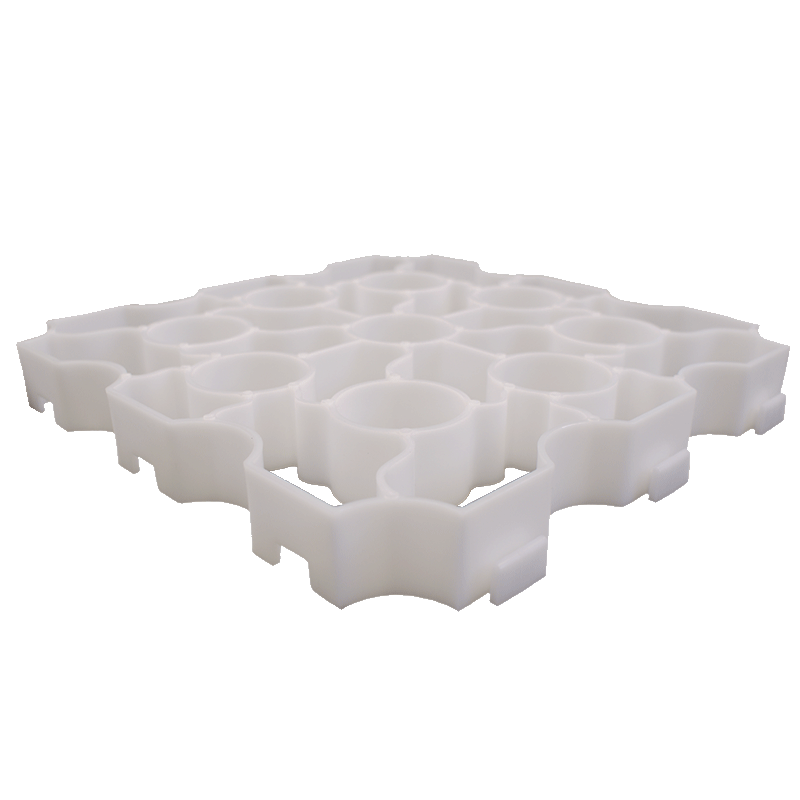 Unlike traditional driveways or walkways made from concrete or asphalt, which can crack or buckle with the temperature, permeable paving mats are UV and weather resilient. This means that when the weather changes or the UV levels are high you don't have to worry about your permeable pavers fading, cracking or buckling.
Many people choose to use the permeable mats in their garden as well as their driveway, because they're great for battling bald spots caused by pedestrian and animal traffic in popular walkways. The permeable paving mats can withstand up to 350 tonnes load bearing capacity. If your chosen space is subject to high volumes of traffic – pedestrian or otherwise – then the paving grids will protect the ground beneath. The perfect choice for a driveway, garden or path, these grids will allow the passing of cars, garden equipment, animals and people, while all the time protecting the ground from erosion.
So, with these lightweight, easy to install, UV and weather resilient, sturdy and strong permeable paving mats you will be saving yourself time and money – and who doesn't love that?!