When it comes to creating anything in your garden there are a number of possible issues you must take into consideration before beginning your work. One of the biggest issues you do have to consider is drainage, for example; if you were to cover your entire garden in concrete there most likely isn't a natural drainage system in place which can lead to flooding or stagnant water that can damage other parts of the garden. This is where our X-Grid becomes a game changer, with a 90% open structure it allows for any water to drain away naturally ensure unless there are adverse weather conditions that no flooding can occur. Jonathan was looking to pave a garden when he found our X-Grid, read the rest of the blog to see what he decided on.
Jump To:
The Project
Jonathan from Fraser Landscaping was in the process of landscaping a customers garden when they were deliberating how to pave their garden walkways. Not wanting grass to walk on and concrete being a labour intensive and also expensive method of paving he set out looking for a better alternative.
Which is when Jonathan found our website, after reading through our X-Grid description and recent blog posts he decided this would be perfect for the job in hand so ordered 20 of our 1m² X-Grid paving.
Sent out on standard delivery, Jonathan received his goods 3 days later and could begin the process of laying the grid.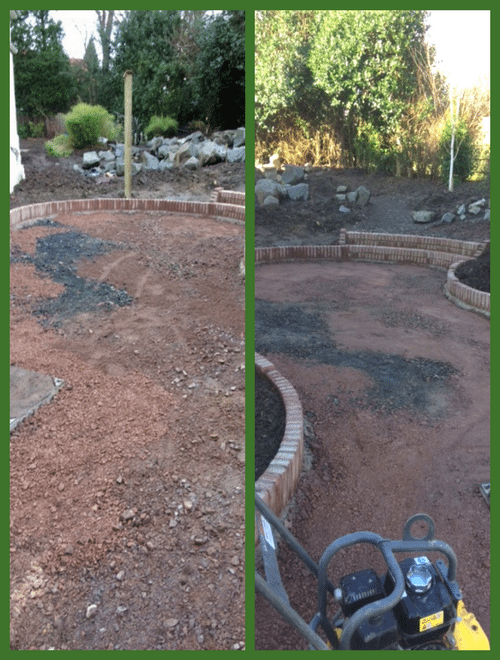 The Products and Work Required
Along with the X-Gird Jonathan bought a few more products were required to complete the job.
First of all was a layer of free draining hardcore which was evenly spread out a layer across the entire area which needed paving and then compacted using a whacker. Doing this creates a solid base on which to lay the X-Grid so there is less chance of movement and also ensures the grid cannot sink in to any soil or mud.
Next is GeoTextile Weed Membrane which we also provide. Once the hardcore layer was down and whacked then the membrane was laid over and secured into the ground using Steel U-Pins. It is important to secure the membrane before laying your grid otherwise there can be movement below the paving. The membrane is also a protective barrier which stops any weeds or plants growing through the grid and eliminating the need to for weeding. Whilst being a protector it does still allow for water to drain away naturally.
Finally, the X-Grid panels are easily locked together and laid in the correct position. Once done, bags of decorative gravel were poured and spread evenly over the X-Grid panels. These bags again are available from any good builders merchant, dependant on the size of stone can vary in price. We recommend an angular gravel sized up to 20mm in diameter. We estimate that around 72kg per sqm is required to fill the grid with gravel. Jonathan was pouring bags out and raking the stones to ensure even coverage all over the garden.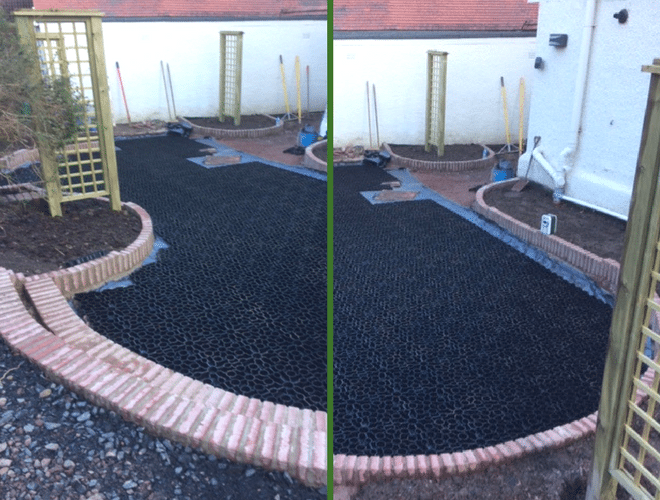 Conclusion 
Jonathan and his customer were both incredibly pleased with the end product. Being attractive, strong and permeable our X-Grid is a great solution for almost any paving problem.
As you can see from the photos the garden is looking great, and with our grid in place there is no need to worry about migration of the stones as our open structure means there is less chance of loose stones being spread all over the garden.
A big thank you to Jonathan for these great photos and for using our X-Grid.
If you have any questions regarding any of our products then please do contact us.