When it comes to gravel driveways, ease of access can become a problem for wheelchair users or pushchair users. In this case study Mike had a newly built house with a gravel driveway but the family moving in needed to be able to use a wheelchair on the surface. This is where we come in. With our X-Grid® used in conjunction with gravel, wheelchair access problems become a thing of the past. Made from 100% recycled plastic whilst also being incredibly strong, our grid is environmentally friendly, permeable and also cheaper and easier to lay than more traditional methods such as concrete or tarmac.
Jump To:
The Project
Mike initially got in touch with us earlier this year as he was looking for a grid product which could be filled with gravel and was strong enough to support the weight of a car, as well as allow for wheelchair access. Our knowledgeable and friendly team suggested X-Grid® which complies with the building regulations for disabled access as it can create a solid and dependable surface which provides access for wheelchairs and motorised scooters. As the grid confines gravel in a cellular way, it provides much more structure and stability to gravel and prevents things sinking in, making it difficult or impossible for wheelchair users.
Arriving 2 days later in easy manageable boxes, Mike could simply unload from the courier and save in a secure place until it was time to lay the Grid on the driveway.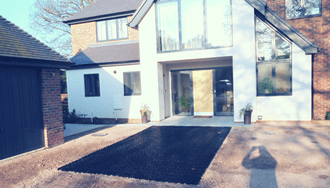 The Work
Mike started out by unpacking the X-Grid® and building the base into bigger pieces in preparation for laying the surface once the groundworks were done.
Next, Mike levelled out the existing ground on which the grid would be laid. Making sure the base is level, compact and well draining will ensure the X-Grid® performs to its maximum capability. With a compacted hardcore base below the grid, there will be little to no movement when weight is applied.
After the base was checked for being level and well compacted, the X-Grid® panels were fitted together and laid onto the driveway in their required areas. Once laid, they can be secured using optional Plastic Anchor Pegs which are hammered into the ground and help to prevent any unwanted movement of the plastic paving grid.
Finally, once the grid is secured Mike covered the entire area in decorative gravel which fills the X-Grid® but still allows for surface water to drain away naturally. Gravel can be bought from any good local builders merchants, we recommend using gravel sizes up to 20mm.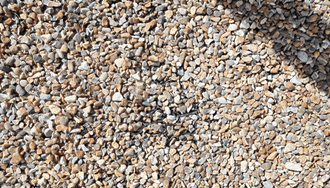 Conclusion 
"All very successful, very easy to lay and almost invisible once filled"
As you can tell Mike was very happy with the outcome with the outcome of the X-Grid® driveway. It was easy to lay and is very sturdy. Should a project like this need completing again Mike will not hesitate to use our grid again. We are incredibly proud that our product not only helped create beautiful driveway but is also helping to make life a little bit easier for everyone involved with the project and the home.
A big thank you to Mike for using X-Grid® and for sending us his photos of the project.