We are one of the UK's largest importer, wholesaler and distributer of 16mm Rubber Grass Mats and 23mm Rubber Grass Mats. However we still offer a personal service. Projects just like the one you're about to read from St Werburghs City Farm allotment really does make what we do even more rewarding. To see products we supply helping so many people able to partake in activities they would otherwise be left out of, from Mats to Grid driveways to help improve access for everyone. Read on to see exactly what we have done to support this fantastic charity and allow their clients to achieve everyday things we all take for granted.
Jump To:
The Project
The team at St Werburghs City Farm had been looking around forsome time for a suitable paving product to allow everyone access to their City Allotment. The paving required also had to be wheelchair friendly, so gravel alone would not have been suitable. Sarah from SWCF then called to enquire about our Rubber Grass Mats and to make sure they were indeed wheelchair friendly, which they are.
The farm has actually bought from us before but for a different project. This project was their Ashley Hill Allotments which are used by a number of people to grow vegetables, plants and flowers to sell to raise funds for the farm. It is also used by local community groups who want to try their hand at gardening and may not have a chance to do so otherwise. We were delighted to be supplying our grass protection mats to help such a fantastic community project.
Read on to the next section to see how Sarah and the team at SWCF used our grass mats.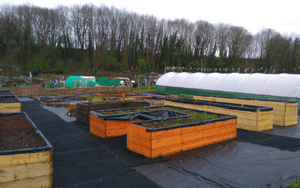 The Work
The St Werburghs City Farm have taken over from Bristol City Council in managing the allotments, they are responsible for renting out allotments and carrying out any maintenance needed (The allotments are so popular that the current waiting list is 2 years long!).
The team including some volunteers laid the mats all around the allotments. As you can see from the photos, this was no small task. The grass mats were laid one by one on top of a layer of GeoTextile Weed Membrane with 5 pegs used per mat to secure it and keep any movement to a minimum. Then once the mat is secured, more mats are laid either side and attached together using cable ties, with 2 ties per short edge and 3 per long edge. Again this restricts the movement of the mats and ensures there are no gaps between each mat and decreases the likelihood of accidents occurring through tripping or falling.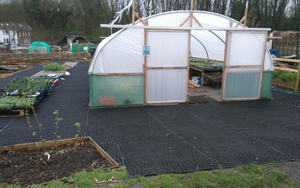 Conclusion
The mats were laid around the recently erected Polytunnel and throughout the community gardens, this has given everyone the ability to access the gardens and means no one has been excluded from their small farming community.
Sarah told us they have worked fantastically well, providing the access they so desperately wanted. SWCF will be ordering more grass mats from us soon to complete the last of the allotment. We would like to say a big thank you to Sarah and the SWCF team for using out product and for sending us the information required to create this blog! Keep up the good work!
If you have any questions or queries, don't hesitate to contact us!