X-Grid is a multi-purpose, interlocking plastic grid panel system which can be used for a huge range of applications. Manufactured in Yorkshire from 100% recycled plastic, X-Grid is as eco-friendly as it is versatile, helping to divert thousands of tonnes of plastic waste from landfill every year.
Strength is at the forefront of the unique design of the grid and each square metre is capable of holding loads of up to around 420 tonnes, before even being filled with gravel. This makes it suitable for use as a parking surface for practically any type of vehicle whether it be a car, van, bus, HGV, boat or even aircraft! Not requiring a stone in-fill for strength means that you can create roads, access routes or parking with grass, bark or sand surfaces without the risk of the surface becoming boggy or churned during poor weather.
As the effects of climate change deepen and widen, we are increasingly more likely to see dramatic weather systems and experience adverse conditions such as flooding much more regularly. This means it's vital that we construct as much surfacing as possible from permeable products which allow rainwater to pass through the upper surface and drain away naturally into the ground. X-Grid is more than 90% open and when filled with gravel, allows vast amounts of rainwater to pass through, helping to mitigate the risk of flooding wherever it is installed.
Designed primarily to enable car parking with an endless number of different aesthetics, X-Grid can be installed and filled with gravel without the worry of raking out ruts or tracks. As the grid fortifies the gravel, you also can forget about the car "beaching", where the weight and movement of the car causes the vehicle to sink.
Simply install X-Grid as a gravel driveway grid and fill with your choice of gravel. We find that angular gravel up to around 20mm in diameter works best.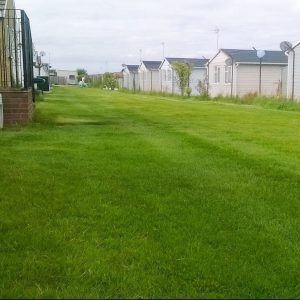 Grass isn't renowned for its durability or willingness to stand up to some abuse during autumn and winter months, however in certain settings such as campsites and caravan parks access routes are often grassed surfaces. These can quickly become churned up and cause the area to look awful and at the worst, impassible.
X-Grid can be installed as a grass reinforcement grid and is filled with soil and grass seed to create access routes and parking which are both durable and attractive all year round.
As climate change takes hold and the polar ice caps continue to melt, we will see increasingly heavier rainfall and more urban flooding than ever before. X-Grid is a solution to creating hardstanding areas which are as durable and low-maintenance as concrete and tarmac, but still allow rainwater and other surface water to pass through, soaking away naturally into the ground.
Suitable as part of a SuDS system, X-Grid is one of the strongest and most widely-used permeable paving grids on the UK market.