When it comes to laying gravel you know full well that sooner rather than later you will be back outside trying to brush or rake the loose gravel back where it should be. Annoying right? Well by using our X-Grid® you cut the amount of migration massively. You will find just a few loose stones have escaped rather than nearly the whole lot! Snowdon Railway chose to go with us, see what they think of the grid by reading on!
Jump To:
The Project
When it comes to any installation at a railway, the products used have to be solid. When Mike got in touch with us in January and told us about the project they would be starting very soon and what they wanted to achieve, we had the perfect solution for them, our Ground Reinforcement X-Grid®.
Their plan was to use X-Grid® on the platforms, as you can see from the photos there were 2 paving slabs side by side with a gap nearest to the platform house. The gap is where the grid would be laid to create a solid base that looks both attractive and could be walked on should it be required. Once we had supplied the grid, Mike and his team bought some hardcore and decorative gravel from their local hardware store.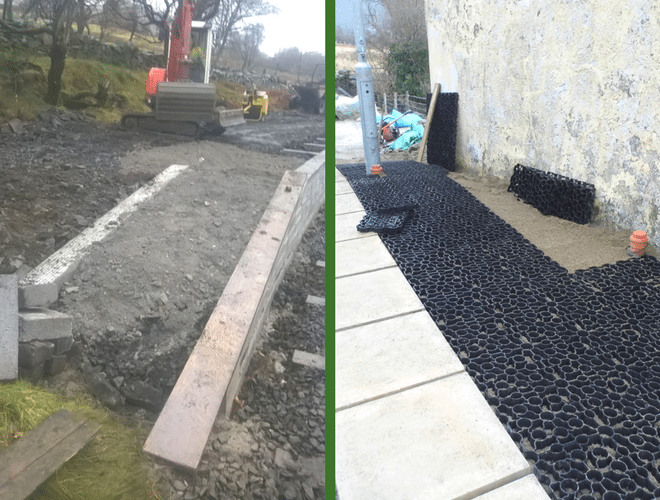 The Work
Due to the size of the job (100m² of X-Grid) a full team was required. The first job was to lay down a thin layer of hardcore which creates a solid base on which the X-Grid is laid and ensures there is no slippage or sinking of the panels once any weight is applied. Once the hardcore layer has been laid it has to be compacted, usually with a whacker, this is done to make sure there are no loose materials that could again, cause slippage or sinking.
After the hardcore is down and whacked the X-Grid® is laid piece by piece over the full 100m² area. The staff on the job told us how easy the grid was to clip together and to lay in place. Once the grid has been laid, there is the simple job of spreading the gravel evenly with a rake to ensure no grid is showing through. With the picture on the right you can see how decorative gravel covers the grid well. What you may not have know is our product actually holds the gravel, which means little migration will occur and very very rarely will more gravel need to be bought and re-laid.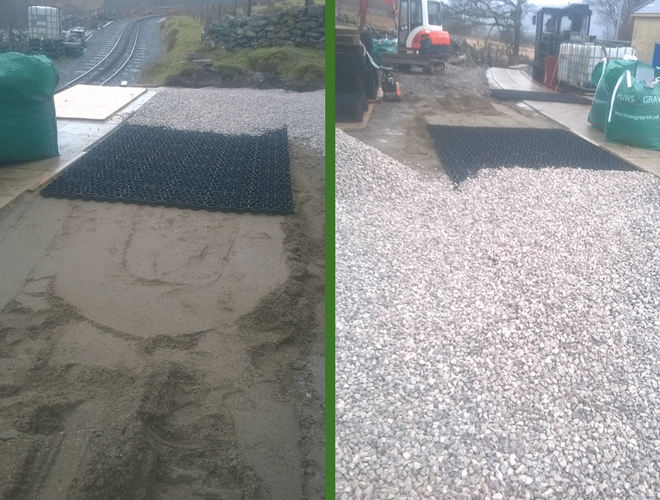 Conclusion 
Whilst confirming the details of Mike's order, we asked if possible, could progress photos and a small review be submitted by him to write this case study. Mike told us how easy the X-Grid® was to buy, have delivered and lay. His entire team were incredibly impressed with the quality of our grid! There has been little migration of the gravel so far and no problems with the grid at all. This just shows how well our recycled plastic grid does perform!
A huge thank you to Mike and everyone over at Snowdon Railway for choosing us and for their help with writing this blog post!
If you have any questions regarding our X-Grid® or any other products, please do get in touch!