Jump To:
The Project
Our latest blog post comes from John who was looking to create himself a gravel patch/path on his front garden. He planned to use a grey decorative gravel to compliment his fantastically well kept turf and the colour of the bricks used on his home.
John needed a product that would create a subtle separation between his lawn and gravel. As well as being a separator, the edging needed to be easy to use, strong and long lasting. He then began searching for lawn edging products and came across our website. John instantly found our Geo-Border Edging and started reading up on its many benefits. He was so impressed he ordered enough to complete his garden on the same day along with  some Plastic Nails and a Sheet of GeoTextile Weed Membrane.
John's order was dispatched the same day he ordered and he received it 3 working days later.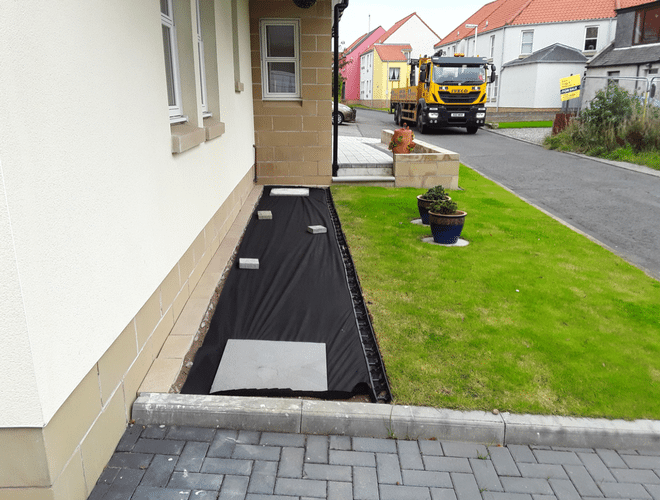 The Work
John's order was packed in an easy to manage box to enable him to store until the day of installation.
Once the day did arrive, John unpacked the edging, nails and membrane onto the front garden and set to work. He started by marking out where the edging would be installed using string and metal staples. From here he began digging along the marked out line and removing the existing turf from the line to the house to create a long rectangle area. With the turf now removed, John then laid the Geo-Textile Membrane sheet in the 'hole and held this down temporarily using small paving stones to stop the sheet from moving or being blown away.
John could then start installing the Geo-Border Edging. The borders are very easy to handle and install. He simply placed the edging up against the lawn and used a plastic nail to secure it into the ground, he repeated this process until the edge was completely covered. John told us how this was very simple procedure.
Finally, John began laying the decorative gravel. He laid a little at a time and removed the paving stones as he went along. A little raking and moving of gravel was all that was needed to ensure a smooth finish. In all a simple installation that looks fantastic!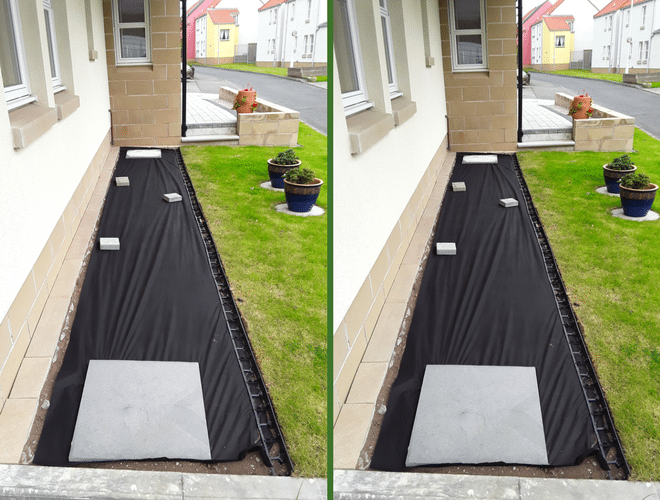 Conclusion
John was and still is incredibly pleased with his front garden gravel path. The Geo-Border Edging was simple yet effective for him. A huge thank you to John for the images and information he shared to enable us to create this case study.
He told us; "Your edging product was very good and it was just what I needed to create my gravel patch in the front garden!"

If you have images or information to share with us to create a case study or have any questions regarding our products then please do not hesitate to contact us.