Perfect for protecting vulnerable ground from heavy vehicle or pedestrian traffic, our porous grass pavers can be used for a whole number of applications, including most popularly on pathways, golf courses and driveways.
Today's blog focuses on the use of these porous pavers at fair grounds. Fairs pop up throughout the year, all over the UK and because of the high volume of pedestrians they attract, they quite often leave behind a muddy, water-logged disaster zone of dead grass and churned up ground. This often takes months to resurrect, by which time there's often another fair in town looking to pitch-up in the same space.
Our grass paving mats prevent this kind of destruction as their strength and durability allows large vehicles to drive and park on grassland without causing damage. Not only that, they can also cope with the constant parade and pedestrian traffic that a large fair will inevitably bring with it.
Our range of porous paving grids are made from 100% recycled plastic so they're lightweight and durable. Each grid measures 330mm x 330mm x 40mm and it takes around an hour to lay 100m2 using the simple interlocking function that can be found on the side of each panel. Not only that, but the grids are weather, UV and chemical resistant and, providing they're installed according to guidelines, you can expect a serviceable life upward of 10 years.
Each of the paving grids can withstand weights of up to 420 tonnes, they're non-slip and comply with the rules and regulations set out in the Flood and Water Management Act 2010, making them perfect for fairground usage. Once the grass has had time to grow through the holes in the grid, each blade will be protected at the root. To look at, you'd never know the grids were there, but you'll notice a real difference when you start to see the impact, or, more accurately, the lack of impact that the vehicles and pedestrians have on the ground. You'll no longer have a boggy field to bring back to life when it's all over because these grids will maintain the image and condition of your field throughout the event. What's more, because of their compliance with SUDs regulations, these grass pavers maintain natural drainage routes, so the ground is still able to soak up all the nutrition it needs. The composition of the grids also prevents a build-up of surface water which dramatically reduces the risk of flooding and, coupled with the grids' non-slip surface, means that people won't need to worry about walking on slippery ground.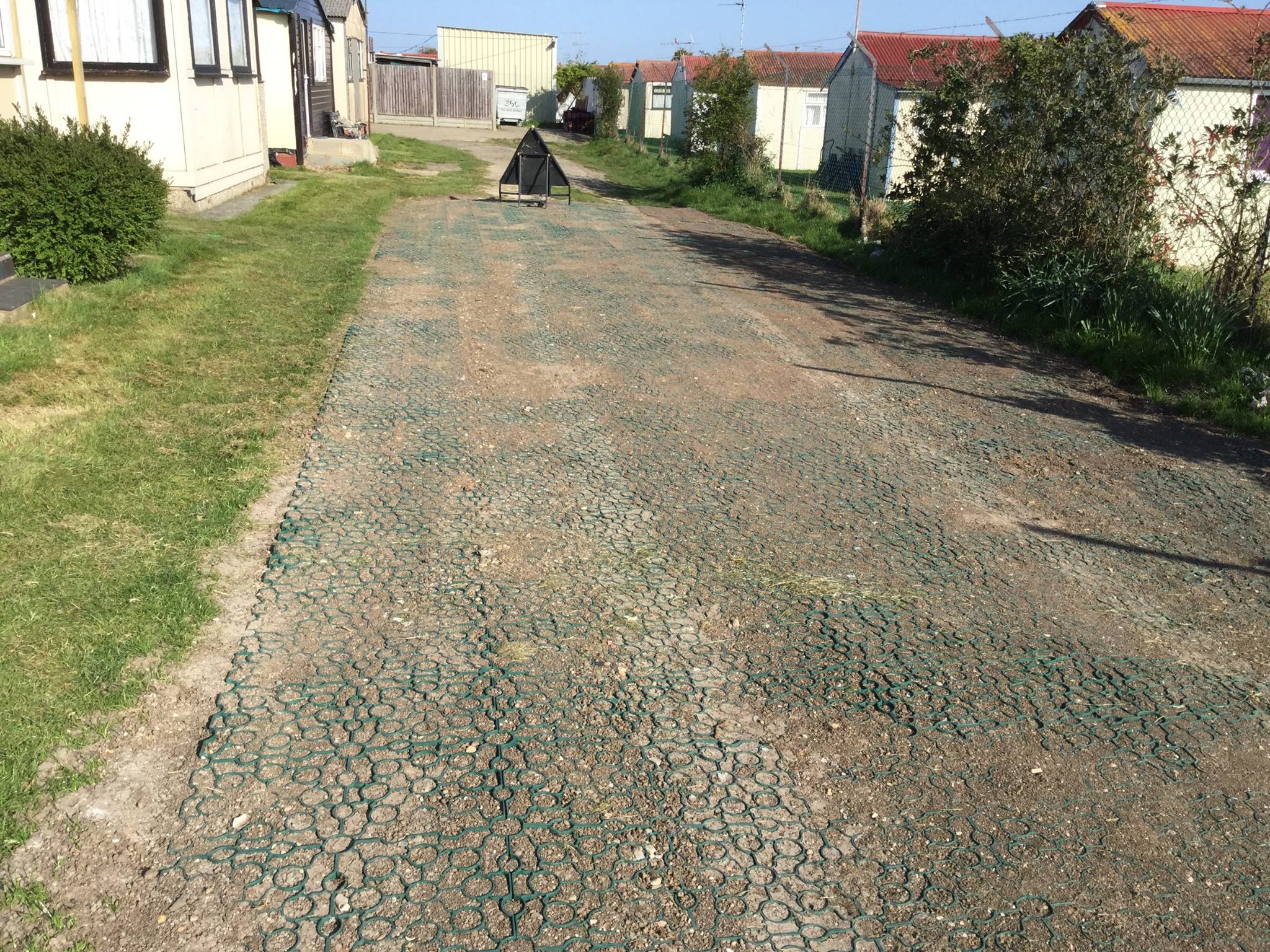 With three colours to choose from – black, white and green – you can choose how much you wish the grids to be seen. If you want them to remain unseen, then we'd recommend a green grid for a grass filling. The options for these porous paving grids don't end with grass though, they can be filled with gravel, bark and so much more.
A gravel filling is particularly popular for carparks and driveways because it looks neat and tidy and the cellular structure of the grids helps prevent gravel migration which means there's no need to constantly sweep up the strays.
So, if you're looking for a product that'll prevent your field from becoming a bog after just a few visitors, along with something that's cost effective and environmentally friendly, look no further than our collection of paving grids.
If you'd like any more information on any of our products, feel free to get in touch on 01246 589092. Alternatively, you can email our team: sales@matsgrids.co.uk, or get in touch via our contact form.