As in our other Grass Reinforcement Mesh case study, our customer was struggling with their garden turf being ripped up. To prevent further damage and allow their grass to grow back they began researching for a suitable product. Read on to see what they used to solve their problem.
Jump To:
The Project
This case study comes from Grace who was looking for a solution to her churned up grass problem. A family members mobility scooter was driven on the grass regularly and had begun to take its toll on the turf. Thus began Grace's search for a protective product.
After looking through the internet, she came across our website and our grass reinforcement mesh category. After reading up on our products, Grace ordered enough of our reinforcement mesh to cover her entire garden and U-Pins to secure. The order was packaged and dispatched the same day by our warehouse team.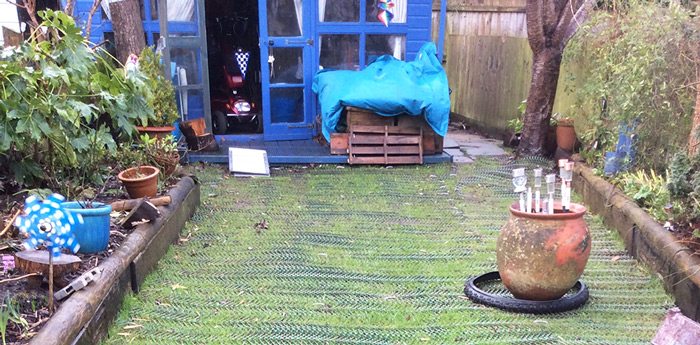 The Work
Grace received her roll of Mesh 3 working days later. She stored the rolls until the weekend when she was to install them in the garden.
As you can see from the photo below, there are two large rock stepping stones in the garden which Grace had to take into account when laying her grass reinforcement mesh. She rolled out the mesh along the length of the garden and secured it into the turf using her U-Pins.
Grace told us this was a very simple procedure. From here using strong scissors cut the mesh in the shape of the rocks below to keep them uncovered. With most of the garden covered all that was left to do was to cover the last few areas of the garden using the left over mesh and secure them into the ground.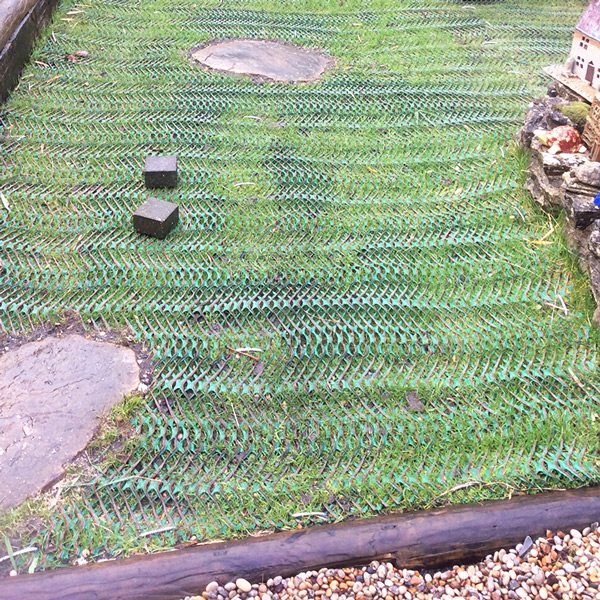 Conclusion
Grace is very happy with the outcome, the wheels of the scooter no longer churn up the turf and soil and she hopes by spring her grass will have grown fully through the mesh.
A huge thank you to Grace for using our mesh and allowing us to create a case study on her project. We're very proud that our products can help solve all sorts of DIY and gardening issues.
Should you have photos or information to share with us regarding your project or just have some questions about our products, then please do not hesitate to contact us.