Creating a Stable with X-Grid 
For some reason, when you imagine a stables, you imagine luscious green grass, perfectly pruned hedges and raw wooden fences. Well, these stables were far from it, as you can see from the picture on the right.
Once upon a time, this stable area had been exactly as you'd have imagined, but over time the constant use by equestrian and pedestrian traffic, along with adverse weather conditions meant the beautifully laid grassed area had quickly become exceptionally muddy and even boggy in places.
X-Grid is renowned for transforming dilapidated grassed areas and giving them a new lease of life almost instantly. Thanks to their unique cellular design, these panels maintain natural drainage routes into the ground and encourage the drainage of surface water which helps prevent future build-up and flooding.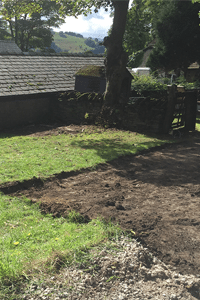 Installing X-Grid for Stables
With a strength and durability unseen in other, similar products on the market, X-Grid really is unique, able to cope with weights of up to 420 tonnes per square metre (remarkable considering they're so lightweight) and therefore the perfect product to help transform equestrian arenas, stables, access routes, commercial car parks and driveways.
Opting for black X-Grid panels, the stable owners first removed the previous grass layer and levelled the ground, before adding a hard-standing, protection mesh and a layer of sand. Next came the much awaited X-Grid panels, connected one by one using their interlocking system and filled with soil and grass seed.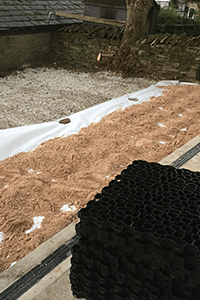 After the Installation 
Now, just look at the transformation today. Once the grass has been given time to grow through the grids, you wouldn't even know they were there but they've created a surface which is much more appealing to the horses and pedestrians walking around the area. What're more, the grass blade it protected from the root which means no more upturned grass or muddy pit, this luscious greenery is here to stay.
If you'd like to find out more about the X-Grid range, click here for more information.