With such a versatile product like our very own X-Grid there are endless possibilities. Just when we think we have discovered everything our grid can be used for a customer will prove us very wrong. A great example that a past customer introduced us to a few years ago, Resin Bound paving, which like our X-Grid prides its self on being a permeable solution. So with the two paired up, water has no chance of being able to sit on the surface! In this case study Mark got in touch with us when wanting to re-lay a customers driveway and needed X-Grid to lay under the resin bound. Read on to see how the project turned out.
Jump To:
The Project
Mark's customer got in touch with him after having a high quality pressed concrete installed around 6 years ago. Although very pleased with the results, during wet and frosty weather they found the surface very slippery which actually lead to numerous slips and falls for themselves and the family. To try and prevent it they laid a carpet on top of the concrete which of course is not a long term solution.
After seeing a sample of Mark's earlier work they insisted on having a resin bound driveway but with a permeable grid system below to comply with SUDS regulations, which is when they decided to use X-Grid. Delivered in easy to manage boxes, all Mark had to do was easily pack them into the van, turn up and begin working!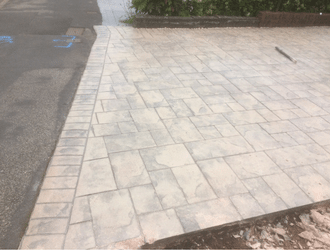 The Work
With a concrete drive already in place, the first job was for Mark to remove all of the concrete that had been laid previously and dispose of this responsibly. With the old drive now gone, Mark laid a ground stabilisation mesh followed by a GeoTextile Membrane, both of which allow for water to drain away naturally which is needed to comply with SUDS. With the mesh and membrane laid and secured, the X-Grid could now be installed. Starting in one corner and laying them one at a time, simply connected them together using the Slot and Peg system until the entire driveway was covered. This was all completed in one day.
The next day, Mark filled and compacted the laid X-Grid with 10mm gravel to create a flat and solid surface on which to lay the resin bound. With the grid filled Mark began laying the resin bound across the entire drive (1800kg of stone used). Once the resin had been laid, the area was finished off by using crushed glass to help prevent any slippage when wet and walking on the drive. As you can see from the photos, not only is the driveway now safer to walk on but looks amazing too!
Conclusion
Mark was incredibly pleased with how the entire project turned out, he had created a SUDS complaint and beautiful driveway. The driveway now has no surface water to freeze and cause slipping issues to the homeowner, instead there is a great looking permeable solution thanks to X-Grid and Resin Bound paving!
We would like to say a huge thank you to Mark for the information and photos he sent through to us. Should you want to send some images in of our products being used or just have some questions then please do contact us.