What is Elegrodeck?
Our Elegrodeck plastic decking boards are made from 100% post consumer waste plastic. This plastic, if not recycled by would more than likely end up in a landfill site or in our oceans. It is estimated that 12.7 million tonnes of plastic enters our oceans each year – which works out at around a full lorry load of plastic every minute. We are doing our part, are you?
As well as being environmentally friendly our plastic decking boards also feature a large number of other benefits. From being non-slip to being weather and UV resistant, our boards come with a 26 year manufacturer guarantee and will not need constant maintenance or replacing like normal timber. Our boards are also available with a specially designed and fully recycled Plastic Lumber which is used as a solid sub-base. See more benefits of elegrodeck below:

Do you have variants of Elegrodeck?
The elegrodeck boards are available in 3 meter lengths and in three colours, Blake Oak, Anteak Oak and Charred Oak. All of which have matching Fascia Boards to cover your sub-frame should it be exposed to the elements once installed. With a solid core, UV stabilised ultra-realistic wood effect veneer and simple installation method you can be assured Elegrodeck is the perfect solution for your decking board needs.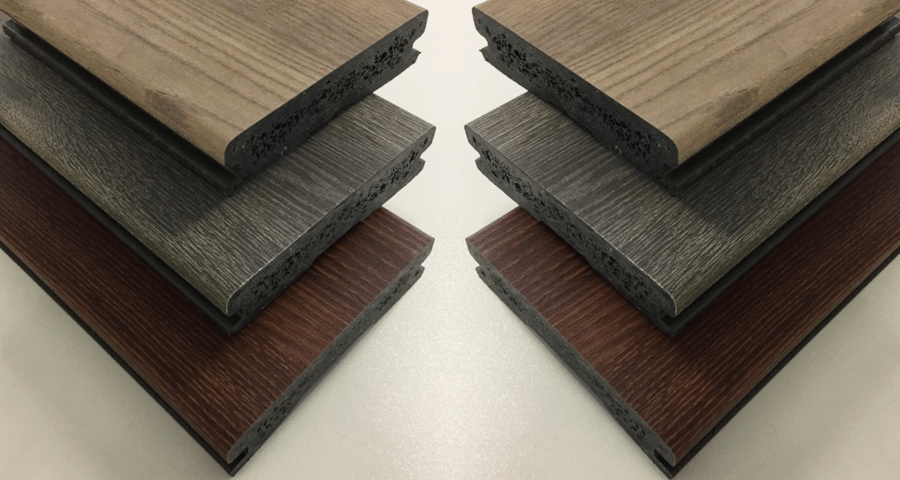 You can see how our recycled plastic boards have been used by past customers and find out how well they have performed by reading some of our blogs: Elegrodeck – A Plastic Decking Board Balcony Installation & Elegrodeck – Plastic Decking Boards Care Home Installation.
Why Recycled Plastic?
Along with more of our products such as X-Grid, we are working to stop the pollution our oceans are facing and attempting to save them before it is too late. If you are unaware of massive impact plastic is having on our seas and its inhabitants, watch the BBC's Blue Planet 2 or read one of the many pages from GreenPeace. Plastic pollution has reached crisis point with there being large patches (described as islands) of plastic in all oceans, the most famous one being in the Pacific Ocean which is around the size of Texas. The pollution doesn't just affect the ocean, a recent study also found that seafood eaters ingest up to 11,000 pieces of plastic every year.
If you have any questions regarding Elegrodeck or would like a Sample of Elegrodeck then please do not hesitate to contact us.