What are the Benefits of installing Rubber Grass Matting?
It is normal for natural grass to get damaged during the winter.  The main reason behind this damage is that most of the water sprinkled on the grass does not get to the roots of the grass. Additionally, maintenance of natural grass is comparatively difficult. To avoid all these problems, many homeowners are turning to grass matting to bolster the appearance of their outdoor space. Synthetic grass matting is one of the ways that you may use to make the outside of your home or your garden look impressive. Currently, there is an array of grass mat types that may be used for an array of applications. You may use this alternative to avoid the strenuous maintenance work associated with a natural grass, including mulching.
Regardless of the attention you pay to grass mats, they look great throughout the year. With so many companies producing these products, you should be very careful while shopping for them to ensure that you get only the best from them. The following are some of the reasons why you should install synthetic grass mats as opposed to planting natural grass.
One of the main reasons why an increasing number of homeowners are turning to synthetic grass matting is that it is comparatively cheap to install. Additionally, once installed, artificial grass looks just as real as the natural grass. This, coupled with the lower cost of installation makes the synthetic grass matting a viable option. The other advantage is the maintenance. Synthetic grass matting requires minimal maintenance to remain vibrant all year round. Natural grass, on the other hand, needs to be manured, watered and mowed regularly. To save time and money on maintenance work, it is advisable to go for the synthetic grass mats.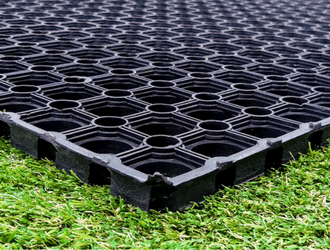 Currently, there are very many types and varieties of synthetic grass mats. As such, homeowners who choose this artificial grass matting as opposed to natural grass have an array of products to choose from. The choice of these products mainly depends on the tastes and preferences of the homeowner. Additionally, you should go for the type that is best suited for your garden or complements the appearance of your outdoor space. Choosing carefully will get you a mat that will completely transform the appearance of your space for the better.
Basically, there are three main materials used to make these mats, depending on the intended application. Nylon is used to make the highest quality synthetic grass mats because it is strong and can withstand immense weight. Polyethylene is used to make the soft grass mats that are ideal for play areas. Of the two materials, polyethylene is the cheaper option.
The other advantage associated with synthetic grass mats is that they can be used in dryer areas because they do not require any form of watering. In drier regions, where water is scarce, home owners use these synthetic grass mats because they do not need to be watered as opposed to natural grass that has to be watered regularly. Additionally, this synthetic option may also be used to save on the water bill in the house.
Other homeowners love synthetic grass for its durability. It is also safe and non toxic for the pets. The grass can also withstand pet waste and remain vibrant for a very long time. It is also very strong and can withstand great weight from playing kids or even cars.
To benefit from these products, it is important to have them installed by the professionals. Proper installation will make them look great and as good as natural grass. In their installation, ground preparation is imperative and only the best ground reinforcement materials should be used. One of the suppliers of such ground reinforcement materials is MatsGrids.