Jump To:
The Project
Our case study comes from a recent customer who was going to replace his old and now worn concrete drive. As well as being in need of replacement, Lee told us how we was looking for a more permeable solution for his driveway as with concrete drives there is no way for rain and other water to drain away naturally.
This is when Lee began searching the internet for a suitable, permeable
gravel driveway
grid. After looking through a few sites he found our website and our
X-Grid®
product. He began to read through the specification of the product and looked at how
other customers had used X-Grid®
in the past. Lee was won over by X-Grid® and ordered on the same day enough grid to cover his driveway along with some
GeoTextile Membrane
 and
Steel U Pins
.
Lee's order was packed and dispatched the same day. He received all of his products 3 working days later.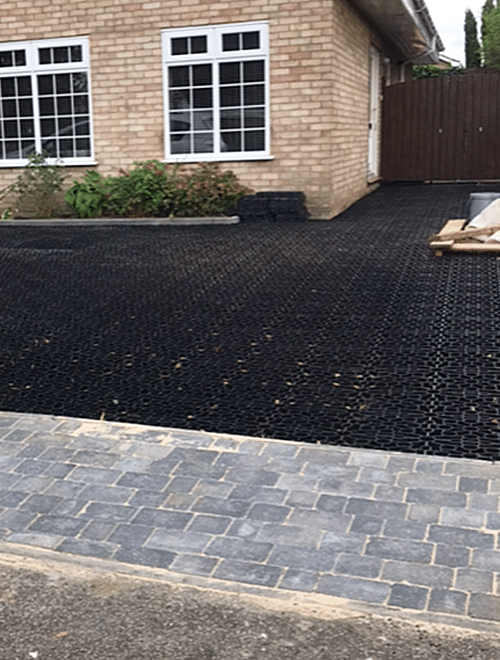 The Work
Before his X-Grid arrived, Lee had the hardest part of the job to complete which was to dig up and remove his old concrete driveway. Although this was very labour intensive, Lee had the old drive completely removed in just one weekend.
Just a few days later, the X-Grid and Membrane arrived allowing Lee to get straight on with replacing his driveway. He began by laying and compacting a small layer of hardcore where his concrete once was, hardcore creates a solid yet still permeable sub-base on which the X-Grid will sit.
With the hardcore compacted, Lee then rolled out his sheet of membrane across his entire driveway and secured it into the ground below using membrane staples to ensure there is no movement when stepped on before the X-Grid panels are installed.
Once, the membrane was secure, Lee began the process of laying the grid. He started in one corner of the drive and laid one panel at a time connecting each panel as he went along using the specially designed slot and peg system. This was repeated until the entire area was covered. Lee told us how simple the X-Grid was to handle and install.
Finally, Lee filled the now installed and secure X-Grid with decorative angular gravel.  Around 8kg of gravel is required to fill each panel of X-Grid so you can work out roughly how much you will need to cover an entire area. And that was it, Lee had completed his Black X-Grid Gravel Driveway!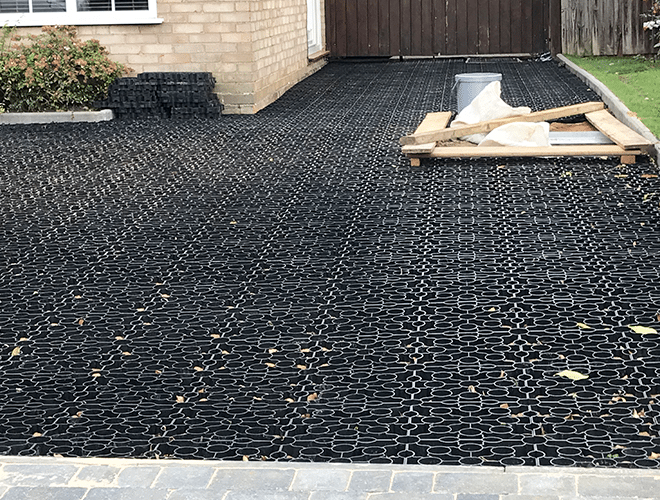 Conclusion
Lee was and still is very impressed and pleased with his Black X-Grid Gravel Driveway. He has transformed is old concrete driveway in to a new, strong, attractive and permeable gravel driveway with the aid of X-Grid.  Lee told us he was very impressed with how easy to use and how effective X-Grid was, and that he would not hesitate to recommend it or use it again!
A huge thank you to Lee for the information and photos he provided to enable us to create this case study. Should you have any images or information to share or have any questions regarding any of our products then please do contact us.