With summer fast approaching we all have a long list of garden jobs which need to be completed before our relaxing and barbecuing can begin. These jobs can vary from painting the shed, cutting the grass and hedges, to sorting out your flower bed. You too can create the perfect outdoor relax zone with little effort and the correct products. This was the situation Jeanette found herself in just a few weeks ago. With warmer weather slowly creeping up on us, Jeanette got in touch with us to find out which product we would recommend for her to solve the issue she was facing.
Jump To:
The Project
Jeanette was looking for an edging product which she could use between her flower bed and raised turf. Without a separation support in the place the turf can easily fall away due to being stood alone with no structure to take some of strain. This is when we suggested that she used our Geo-Border Lawn Edging that is strong, incredibly easy to install and will not need replacing after a year or two of use.
With the need to create a separation whilst being able to support itself and the surrounding turf there are a number of options on our website that would work well for Jeanette's needs. With Green Plastic Lawn Edging, Black Plastic Lawn Edging, EcoLat and the Geo-Border all available choosing the correct one for your job can be just as difficult as the job itself. However, due to having to support itself and the turf, we suggested that Geo-Border be used thanks to its unique shape that optimises it's performance. This lawn border can also be covered with soil or gravel to disguise it.
The Work
As with most projects there was a small period of planning to allow Jeanette and her team to decide how and in what order they would be completing each part of the job.
The job started off with Jeanette and her team outlining where the turf would end and the border would be laid and secured into the flower bed. They did this to create a larger area to grow plants and flowers around the existing turf. Once outlined the turf was removed using a straight shovel and a plank of wood to create a flush, straight edge along the full area of the turf. The removed turf was disposed of responsibly and they moved on quickly to the next part of the project.
Next, the Geo-Borders were installed. Laying them one segment at a time and securing them into the ground using Plastic Nails to ensure the border doesn't move once it has been installed. Should the border be loosely installed it will most likely move away from the lawn and possibly damage your plants or grass.
Finally, Jeanette covered the protruding supports with the soil that was already in the flower bed to disguise the border and ensure a natural garden look was achieved.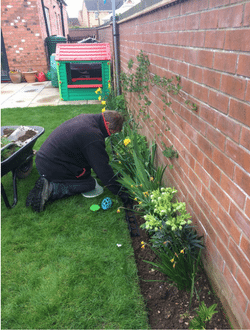 Conclusion
Jeanette is incredibly happy with the end result and how her project has turned out by using our Geo-Border Lawn Edging. She now has a straight lawn that compliments the flourishing flower bed which are separated by our fully recycled edging that is easily installed and hidden using soil. A small project which makes the garden look even more fantastic. Jeanette told us how easy the edging was to use and install. It has performed excellently so far and would definitely use us again.
We would like to say a huge thank you to Jeanette for taking the progression photos and sending us the information to be able to create this case study.
If you have any questions regarding our Lawn Edgings or any other products then please do contact us.