When taking on new jobs contractors can quickly become a customer, after discovering exactly what their client requires they may need to research the best product to solve their issue or even go and browse a builders merchant or two. Lots of contractors will use our products when their customers need a natural looking job completing such as matting a garden using Rubber Grass Mats or creating a car park using X-Grid®. In this case study, Richard is looking for a product to meet the needs of his new client. Read on to find out exactly what his client needs and what product he chose;
Jump To:
The Project
Richard had been contacted by one of his customers who were looking for a new private car parking space for them and visitors to use, they wanted the area to still look natural whilst being strong enough to withstand the weight of at least 2 or 3 cars. Richard began searching for the correct product to be able to meet the demands of his customer and soon came across our website and X-Grid®. After reading up on the product he found that the X-Grid® panels were strong (withstand up to 420 tonnes per square metre), permeable (SuDS complaint) and available in green (to blend in with the surrounding turf). After consulting with his customer Richard ordered 25 sqm of X-Grid® to cover the required area. Read on to find out how Richard installed the panels!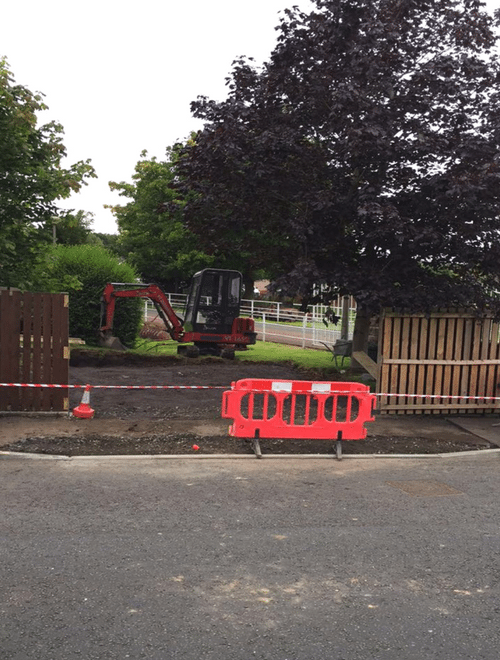 The Work
Richard had the X-Grid® delivered on a specific day to the customers' location so he could begin work as soon as the panels arrived. He started the work by measuring and outlining the 25sqm area where the base would be installed and began removing the existing turf and soil. More had to be removed from the left side as you can see there is a slight hill which needed to be levelled. With the old soil almost level, a small layer of new fertile soil was laid on top and compacted down using a rake, plank of wood and a spirit level. Having compact soil creates a soil sub base so the grids cannot sink once the soil is wet but still allows for new grass to grow up and through the Green X-Grid®.
Next, Richard began to lay the X-Grid® starting in one corner he laid each panel one at a time and connected them simply as he went along easily connecting them using the specially designed slot and peg system. The laying of the permeable panels was by far the easiest part of the job Richard told us.
All that was left to do after the panels were laid was to tidy up, fit the gate back onto the fence and wait for the grass to begin growing through the X-Grid®.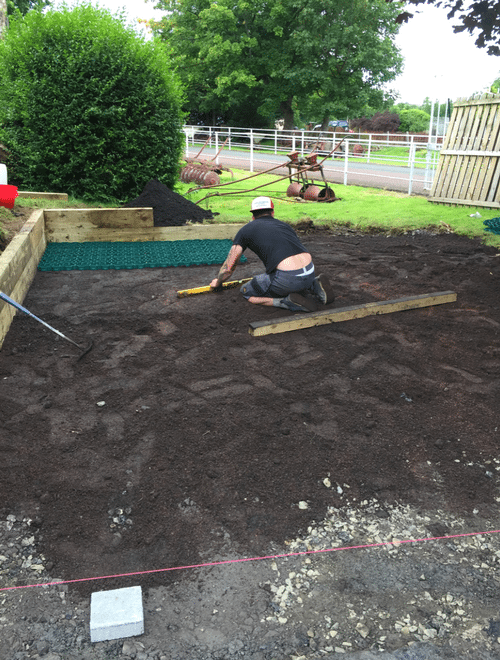 Conclusion
Richard and his customer are incredibly pleased with the finished project, they now have a natural looking, strong and permeable car parking solution that was far less labour intensive than laying concrete would have been. The entire process also took far less time than laying concrete would have. With so many benefits to using our permeable paving grid, you'd be mad not to at least consider it!
We would like to say a big thank you to Richard and his customer for supplying us the photos and allowing us to use them to create this case study. If you have any photos or information to share with us or have any questions regarding our X-Grid® or other products then please do contact us.