We've all played Crazy Golf, a fast paced, fun round of putting a golf ball past a number of strange objects. However we never think of the ground around the course and how the constant tread from customers can wear away even the toughest of flooring. Gus had found that his grass was starting to show signs of wear around the crazy golf course so decided he would put a path around that would allow grass to grow but support the customers. Read on to see what he decided to use!
Jump To:
The Project
Gus from Inverness Crazy Golf was looking for an edging around each of the holes as there was no paving there and the surrounding grass was starting to be trodden down and in some patches, killed. Gus did consider using concrete slabs but wanted to keep the grass and its natural look around the holes. This is when he found our website and our Rubber Grass Mats which allows grass to naturally grow through whilst protecting the turf below at the same time. Gus also decided that the using our grass mats would reap greater safety benefits compared to concrete slabs, as there are lots of children playing, should any take a tumble the fall will be softened by the grass mats.
Gus ordered enough grass protection mats to surround each of the crazy golf holes the same day he found our site and they arrived with him 3 working days later.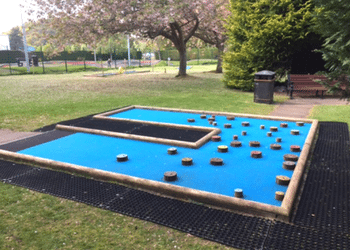 The Grass Mats and Work Required
Our Rubber Grass Mats are made entirely of recycled rubber and can be laid onto flat or contoured surfaces. This means regardless of the landscape you can lay the mats wherever suitable as long as they are pinned down using our Plastic Fixing Pegs. Whilst allowing for grass to grow naturally through the mats also allow for any water to drain away naturally so unlike with concrete paving there will be less chance of flooding as water can still take its natural course.
Gus started off by planning out what he would be doing with the Mats, he then started from the tee off point laying and securing the mats into the ground using the plastic fixing pegs. He then moved around each hole laying one mat at a time and tying mats that were touching together using Cable Ties to ensure there was no movement when they are stood and walked on. Gus told how impressed he was with the mats and how simple they were to lay and work with.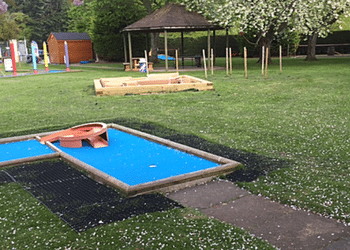 Conclusion 
Gus was incredibly impressed with the rubber mats and how easy they were to work with. As you can see from the photo on the left the grass mats are almost invisible once the turf has had chance to grow through and around whilst still offering its fantastic underfoot support.
We would like to say a huge thank you to Gus for using our grass mats and for sending us the photos and information to be able to create this case study.
Should you have any questions regarding our products then please do not hesitate to contact us.