Gravel retention pavers are the perfect choice if you're looking for a product that will maintain the impressive look of your drive or pathway throughout the year. Although we're focusing on gravel retention, these driveway grids are also brilliant grass reinforcement too which means that, as well as driveways, many people like to reinforce their lawns with them also. Laid on flat ground and filled with nutrient rich soil and grass seed, these grass pavers are a brilliant way of protecting grass against damage and erosion.
Back to the gravel though, being constantly on the lookout for out of place gravel, heading around the drive with a brush every day of the year to be sure of an even spread is a hindrance to most people. However, the cellular structure of gravel driveway grids keeps migration to a minimum by packing the gravel tightly into each section.
Made from 100% recycled plastic sourced from right here in the UK, not only are gravel retention grids practical, they're also cost effective and environmentally friendly. By reusing waste plastics to form the driveway grids, it's a product that's avoiding already overflowing landfill where it'll take around 450 years to breakdown. Not only is this great for the environment, it's also good news for you too because each panel is super lightweight making them really easy to manoeuvre.
Each paver is rugged, durable, dependable and weather and UV resistant, which means not only will it lost longer than any similar products, it doesn't require much maintenance either (you may need to re-secure the grids every now and again), so it's a real win-win situation.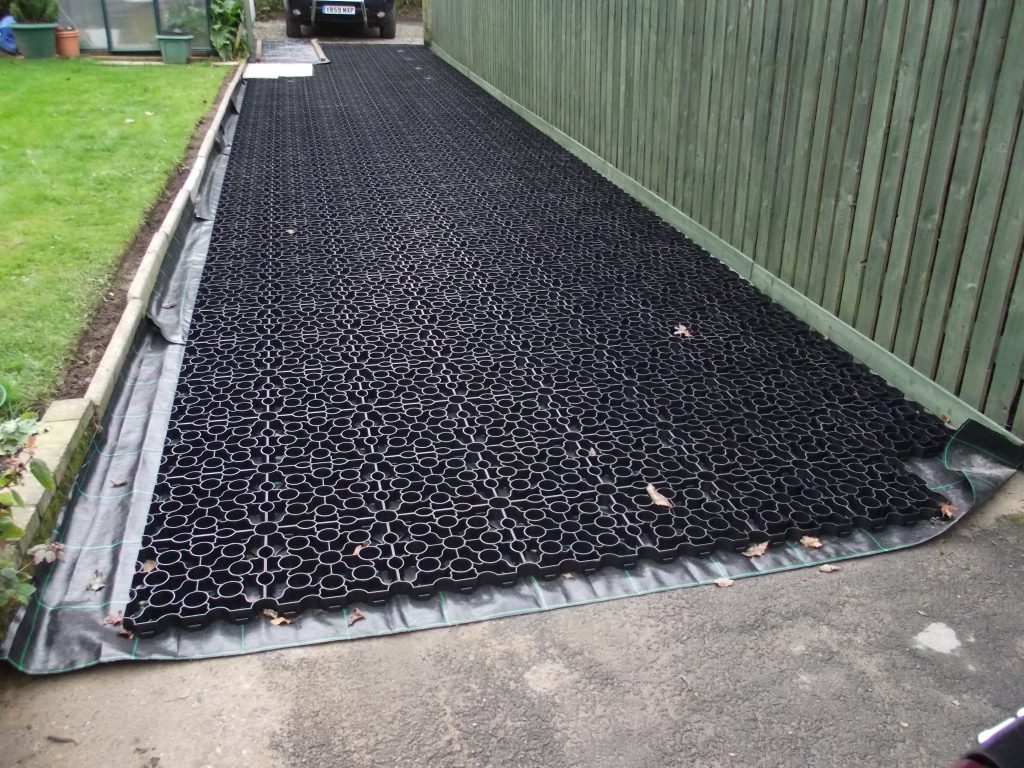 As the gravel grids are available in numerous colours (black, white and green) some people choose to make a feature of them, leaving some visible to create a pattern on their driveway. Take a look at this photo, from one of our happy customers, for some inspiration.
Our collection of driveway grids are porous and permeable, which means the ground below the grids is always protected. Should you ever wish to remove the grids – which we doubt you ever will – you'll expose fresh, aeriated and watered ground thanks to the cellular design of the grids which maintains natural drainage.  
With a load bearing capacity of 350 tonnes, these gravel grids are some of the strongest in the industry, capable of withstanding vehicle, pedestrian and machinery traffic. With a simple interlocking function to the side of each paver, they're easy to fix together and lay, the majority of people can lay 100sqm in just one hour.
Whatever your next project may be, there are loads of options with gravel grids, they're great for transforming your driveway, pathways and gardens, and can even be used as a sturdy base for outdoor constructions like a shed.
If you'd like more information on our gravel retention grids then don't hesitate to get in touch with our team. Alternatively, if you know they're the product for you, you can add them to our easy cart and checkout system for a speedy delivery.