Jump To:
The Project
This case study comes from Jo. After purchasing a new wooden climbing frame with built in swings and slide for the garden, she began searching the internet for the correct safety flooring. This was to ensure that should there be any trips or falls from her children, they will be met with a softer landing than usual and prevent any unwanted injuries.
After browsing a few other sites, Jo found our website and our 23mm Grass Mats. Our grass protection mats are perfect around play areas thanks to their 3.3 metre critical fall height. Also, after a few weeks the grass below begins to grow through the integrated holes in the mats to give your garden its natural look back. Jo ordered enough mats to cover the entire play area along with some Plastic Fixing Pegs the same day she found our site and received them 3 working days later.
"I have a large climbing frame which accommodates ages 2-12 years. And as each child has their own different abilities and we do have a couple of fearless young ones, I looked up your mats and found they were a more cost effective solution to ground protection around our children's climbing equipment."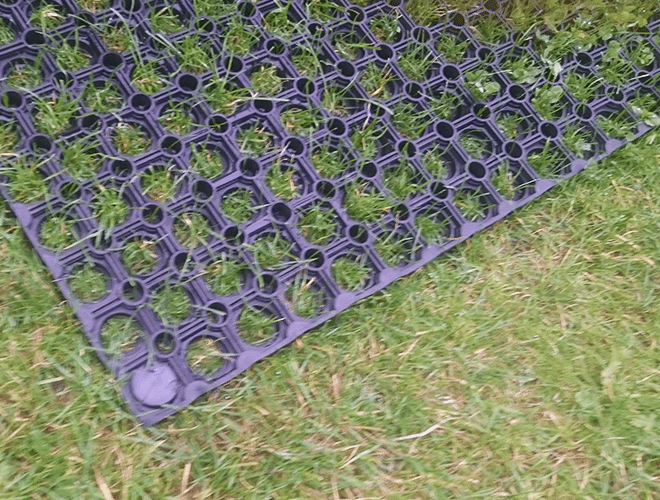 The Work
Jo unpacked her delivery in the garden and set about installing her new grass mats.
To start, she planned out where the mats were needed most, she decided on: Under the swings, at the bottom of the slide and at the bottom of the climbing frame. From here she laid one mat at a time and simply secured it into the floor using the plastic fixing pegs to ensure that when stepped on, the mats would not move.
Jo repeated this process until the troublesome areas that had started to show signs of wear were covered. She now had protective flooring for potential accidents and protection for her grass to begin growing once again. All that was left to do was to wait for the grass to begin growing through, which as you can see from the photos did happen.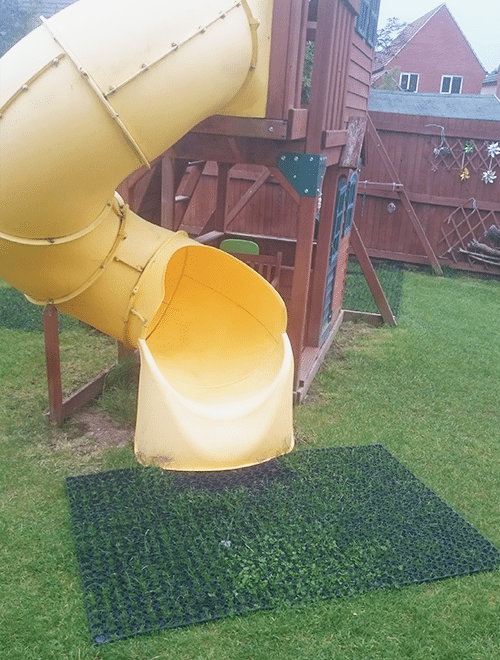 Conclusion
Jo was and still is incredibly happy with her Safety Grass Mats installed around her play area. She now has piece of mind that should anyone have a trip or fall, the chance of injury has been dramatically decreased.
Jo told us "The pros to the rubber mats I found for me had good value for money per mat, Great shock impact statistics and the pegs to fix them to the ground are very well designed. I purchased the mats and placed them in the high risk areas of my equipment, at the same time allowing my grass to recover from the high wear it has incurred."
A huge thank you to Jo for using our grass mats and for sharing the photos and information to allow us to create this case study. If you have images or information to share with us to create a case study or have any questions regarding our products then please do not hesitate to contact us.