How to make your Lawn become the center of your Garden
Forget your beautiful garden furniture and quaint garden shed for a moment because no matter how hard you try to change it, the centrepiece of your garden is most definitely a healthy lawn.
With the right tools, care and equipment, a luscious green lawn can be easily grown and maintained, to be used by the whole family for relaxing, walking and playing.
Here, we aim to take you through the stages of lawn development, all the way from initial seeding through to maintenance and protection.
Seeding
The first thing to consider, is how the lawn will be used as this will determine the type of seed you choose. Of course, there's always the option of turf too which, although more expensive, will provide an instant green lawn. However, be aware that this will take some caring to ensure successful establishment. You also need to bear in mind that you'll need to make the same consideration with turf as you do with seed, as the type of turf you choose will depend entirely on how you intend to use your lawn.
Although turf might seem like the most convenient option, there are plenty of advantages to growing your lawn from seed including:
      Seed choice – by selecting the right seed variety, you're ultimately ensuring your lawn perfectly matches your needs
      Cost – when comparing cost per m2, the cost of seed is considerably less than that of turf
      Weed control – by correctly treating the area prior to seeding, you can create a lawn that's virtually weed free which means much less maintenance later on
It's generally considered that there are three types of grass seed to choose from:
      Shady – specifically intended for shaded areas of the garden where growth of a general purpose seed may be slow or unsuccessful
      Hardwearing – for lawns with heightened activity such as dogs running and children playing
      General purpose – a general seed intended for use on areas with no problem areas
Preparing the ground for seed
Before seeding the area it's essential that the ground has been properly prepared; it should be free of old lawn, stones, weeds and other obstacles and the ground should be levelled. Levelling can be achieved by adding soil to any areas lacking height, these areas can then be raked over to produce a level soiled area.
In order to establish the correct seed ratio, it's a good idea to mark the area out into metre squares and once sown, the area should be protected from bird and other pests likely to steal the seed. You should also ensure the ground is well watered for effective germination of the seeds.
Seed protection
If you've had issues with your lawn before, whether due to over use, irregular maintenance or an unsuitable seed, the majority of people are likely to consider the use of turf at this point. Truthfully though, there are many products intended for use with grass seed, that will ensure you don't suffer twice.
X-Grid for example, will add strength and robustness to your lawn to prevent the same thing from happening again.
X-Grid is available in three colours – black, white and green – and should be laid and secured prior to the laying of the grass seed. This product is equally as effective on level sloping ground as it is on the flat so it's perfect for use in the average garden.
X-Grid maintains natural drainage routes which means that rain water will drain naturally. Your grass – once it's grown, at least – can be treated as normal including mowing, weeding and feeding and you'll no longer need to worry about over use. The reason grass dies, browns or gets churned up with excess traffic is because the root of the blade gets damaged. X-Grid prevents this by preventing access to the root of the blade. Take a look at some of our before and after pictures below…
Before X-Grid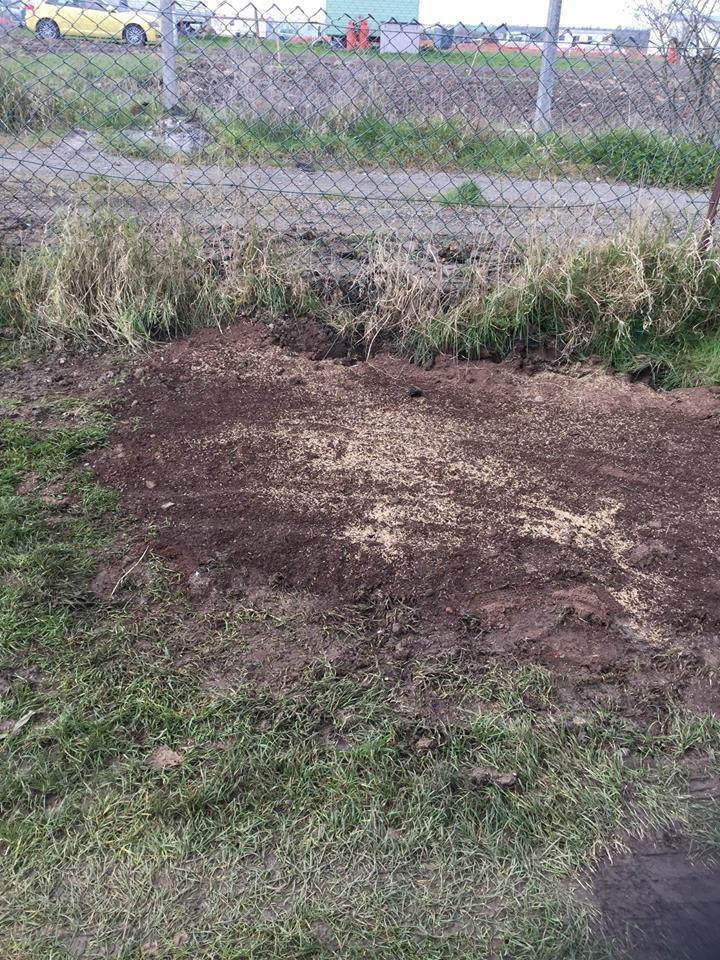 During X-Grid

After X-Grid

Maintaining
One big mistake many people make is to over water their lawn. As it's growing, regular watering is essential, but once it's established it's something that's rarely necessary – unless, of course, we suffer one of our rare UK droughts.
Regular mowing is really important, especially during spring and summer when the grass is growing more quickly. If you want the perfect, luscious lawn that gets all the neighbours talking then a shorter length is preferred. However, you need to take use into account before you start. For those lawns that need to be hardwearing because of regular use, stick to a longer length to prevent damage.
Your mowing routine isn't just about the way your lawn looks though. Regular mowing will also promote even growth and as it matures it will also ensure increased growth from the base.
If you'd like any information on any of our grass protection products or advice on how to protect your healthy lawn then please don't hesitate to get in touch with our expert team.