Why Choose a Gravel Driveway?
X-Grid is the perfect product for maintaining the natural drainage routes of your gravel driveway. Its cellular structure means the grids can hold on to gravel while enabling water to flow easily back into the water table with minimal surface water build-up.
As well as being SuDS compliant, X-Grid is strong and durable, able to withstand compression of up to 420 tonnes per square metre and resistant to harsh chemicals and adverse weather conditions.
Your driveway goes such a long way to setting the first impressions of your property and is the last thing you see when you leave, meaning it needs to look great, have attractive kerbside appeal and leave a lasting impression on your visitors and guests.
As well as leaving a lasting impression and unlike your garden, your gravel driveway isn't an outside area where you're likely to want to spend a lot of time. Our homeowners on this project felt exactly that, they wanted to create a driveway which is low maintenance, attractive and affordable.
By utilising the X-Grid gravel driveway grids, they were able to meet all these requirements.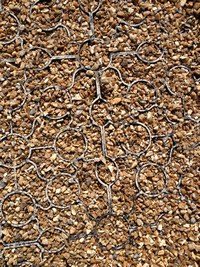 So How Did They Create Their Gravel Driveway?
To save money, they decided to tackle the job themselves as it's really simple and easy to lay.
They started by removing their old driveway surface and levelling the ground with a whacker plate. Once the ground was level, they chose a woven landscape membrane to prevent the growth of weeds. Then they connected each X-Grid panel using the simple interlocking fixing before filling with gravel.
Filling the X-Grid with gravel takes around 72kg per square metre although this will depend entirely on the size of gravel and the look you are hoping to achieve. Some people like the aesthetics of the grid and fill their X-Grid level with the top of the plastic and others prefer to not see the gravel grid and so overfill the grid to hide the amazing technology beneath.
With a huge range of natural stone gravel on the market, you'll be sure to find a gravel which is suitable and attractive for your project. However we do normally recommend that you fill the X-Grid with an angular type gravel to help keep the migration down and keep the size of the pieces of gravel (often referred to as "grade") to 20mm in diameter or smaller.
This helps the gravel to fill the grid as tightly as possible with as little free space, while still remaining permeable and allowing the water to pass through, naturally soaking back into the water table. This reduces surface water flooding and is much more economically friendly than allowing the water to pass into the sewers for treatment at one of the many sewage treatment plants across the country.