X-Grid: Delivering Amazing Results Time & Time Again 
X-Grid is permeable, porous and SuDs compliant which makes it the perfect product for creating a useable commercial car park that's previously been nothing more than a waterlogged, muddy bog.
X-Grid is our best-selling product for a reason, several reasons in fact, including its eco-friendliness, cost-efficiency and the amazing results it delivers time and time again.
Not only that, each X-Grid panel is exceptionally strong and durable with the ability to cope with weights of 420 tonnes per square metre.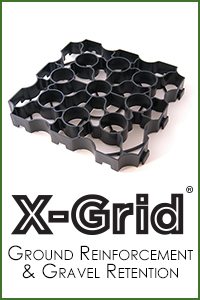 Eliminates Mud, Helps Drainage, Improves Safety
Previously this commercial car park was merely an extension of the field and therefore became waterlogged, muddy and sometimes impossible to drive upon.
The use of X-Grid has allowed the Football Club to create a safe car parking and driving surface for their spectators. The cellular design of the X-Grid panels ensures that the chance of surface water build-up is significantly reduced as natural drainage routes into the ground are maintained (something which isn't possible with a concrete or tarmac surface), which means their mud-bath of a car park is no more.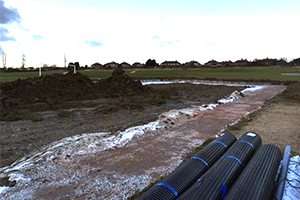 A Dramatic Transformation
The club chose black X-Grid panels to fulfil their project and although when they sent us these images they'd not yet decided on a filling, you can already see the remarkable improvement on the huge muddy area they started with.
If you're interested in finding out how X-Grid could help you, take a look at the vast range and feel free to get in touch with any questions.