Simply the Best Gravel Driveway Grids, better than all the rest
1. The Advantages of  Gravel on Driveways
Before deciding on asphalt, gravel or any other material to cover your driveways, you need to weigh all the options available and the benefits associated with them. With a careful thought and considerations, many homeowners settled for Gravel driveway as the perfect option for covering their driveways. Gravel is one of the best driveway materials because of the many benefits associated with it. It is considered to have qualities that are superior to either concrete or asphalt, when used on driveways. Some of the advantages that make the majority of homeowners choose gravel for surfacing their driveways include the cost of installation and maintenance, the aesthetic appeal and the durability of Gravel.
Durability
When it comes to durability, Gravel is the material to go for with regards to surfacing your driveways.  In addition to durability, the material is also easy to maintain as opposed to other driveway surfacing alternatives. Continued exposure to weather conditions, including extremes of temperature, rainfall and cold, makes other materials like concrete and asphalt crack and become chipped. Additionally, exposure to continued and heavy usage by people and cars makes gravel and asphalt surfaces wear out. Gravel, on the other hand, can withstand all these harsh environmental conditions as well as heavy traffic without any need for replacement.
Installation
The ease of installation and the time it will take to install the chosen material is another factor you should consider before settling for any material. With skilled and experienced workmen from some of the best companies in the city, such as MatsGrids, installation of gravel driveway grids is an easy task that can be accomplished within a very short period. In this regard, gravel is the best option, as compared to other alternatives like concrete and asphalt. Although you can do this on yourself, you should consider hiring a contractor for the best results.
Flood and runoff control
Other materials like concrete and asphalt are not porous. As such, using such materials on your driveways may lead to flooding in your home when it rains.  Gravel, on the other hand is porous and allows all the rain water to percolate to the lower layers of the soil. Therefore, you can use gravel to mitigate flooding of rainwater in your home.
Aesthetic value
When it comes to the aesthetic value of the driveway, gravel is still the best material to choose. While concrete and blacktop are only available in gray and black color options, gravel has an array of decorative textures and color hues. As such, having gravel on the driveways can greatly improve the aesthetic appeal of the home decor.
Cheap to install and maintain
As compared to other materials that may be used to surface driveways, gravel is easy to instyall and maintain. Although it may require top dressing after some time, the cost cannot be compared to repairing a concrete or asphalt surface. Gravel surface can withstand very harsh conditions that can easily damage asphalt and concrete driveways. As a result, the cost of maintaining gravel driveways is cheaper as compared to any other material that may be used on driveways.
These are some of the main considerations you should bear in mind when choosing the best suited material for your driveway. Whichever way you look at it, Gravel driveway is superior to other driveway materials. While installing gravel driveways, you must have your contractor use the best ground materials from the well renowned companies like MatsGrids. For many years now, MatsGrids has been one of the best companies, with regards to high quality and durable materials for groundworks in the country.
2. The Best Gravel Driveway Grids
While gravel looks great when installed in driveways, if not installed using gravel driveway grids, the particles begin to migrate to the neighboring area, including grass lawns, making the environment appear ugly. To prevent this annoying characteristic of gravel, you should consider using  X-grids from MatsGrids to prevent this migration of gravel to the nearby places. These gravel grids hold the gravel particles in plastic cells, hence detaining it within the desired region. They ale add the visual appeal of the driveway. The various gravel grids from this company have been tested under great pressure, up to 350 tonnes and found to be strong enough to withstand immense pressure. You may also enhance the strength of these grids by filling them with approximately 72 Kgs/sqm of gravel, diameter 20mm.
X-Grids has an outstanding interlocking system.  This interlocking system makes these grids some of the esasiest to install in the country. As such, the grids are easy and quick to install and may be installed by any contractor. They are some of the strongest grids in the United Kingdom and are also cost effective. The following are some of the X-grids you should consider using to lay gravel on your driveway:
1m² gravel driveway grids x-grid®
These grids are available in black, natural and green colour options and are a fantastic option to prevent migration of gravel on driveways. Additionally, this grid forms a very strong surface on which people, cars, bicycles and wheelchairs can move easily without any objection. These grids are decorative and also easy to install on the driveways. With a size of 330x330x40mm, such grids are suitable for use on domestic driveways. They have a load bearing capacity of 350 tonnes. As such, even huge trucks can move over the grids and not damage them. Provided that the surface is well compacted, you will find these grids some of the easiest to lay. They can then be filled with decorative gravel of your preferred width. They are the option to go for if you are looking for a durable, strong  yet decorative surface. This way, the driveway will also improve the aesthetic value of the entire home.
25m² x-grid® ground reinforcement grids
This is another product from MatsGrids that you should consider using while laying gravel on your driveways. They are very durable and strong, hence may be used in either commercial or domestic driveways and car parks. They have been manufactured using recycled plastics and are very environmentally friendly. These grids are available in black, natural and green colour options. They come in packages of 225 individual Panel,  with each panel measuring 330 x 330 x40mm. The size of the package is 1m x 1m x 1m and weighs 123 Kgs. The durability of these grids can be attributed to the resistance to UV rays and weather.  They are designed with the perfect locking design for quick and easy installation.
50m² x-grid® gravel driveway grids
These grids are designed and manufactured using recycled plastic materials to be very friendly to the environment. They are very strong and durable, with a bearing capacity of 350 tonnes. As such, they are suitable for use in both commercial as well as domestic. They are available in packages measuring 1m x1m x 2.2m and weighing 245 Kgs. The packages carry 450 individual panels, each measuring 330 x 330 x 40mm.
 The gravel driveway grids from MatsGrids have been tried and tested. As such, they have been proven to be strong and durable under extreme conditions. If you are considering laying gravel on your driveways or car parking lot, you should only buy the ground materials, including gravel driveway grids from MatsGrids.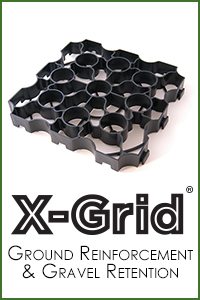 3. Gravel driveway materials
The driveway is a very significant part of your home. As such, it should be done with utmost care and using the best gravel driveway materials. Gravel driveways give the property a natural entrance that is fascinating and appealing to your guests. Basically, there are several materials that may be used to cover the surface of a driveway, including gravel, concrete and asphalt. In the recent past, people have come to realize the advantages of stone and gravel for use on driveways and parking lots. As such, many homeowners are now embracing the concept of using gravel on the driveways. With regards to gravel driveways, you may opt to use either gravel or crushed stone, which is a higher end installation.
In addition to being cheap to install and maintain, gravel is also elegant, adding the desired aesthetic value to the property. Additionally, it is also possible to pave the gravel after a long period of usage using your preferred materials. When installing gravel driveways, the most consideration should be on the quality of materials to use for the project. Using materials of low quality will cause the driveway to deteriorate in quality and appearance with time. The following are some of the materials that you may use on the driveway.
4. Ground reinforcement products
After digging out the driveway, the next stage would to lay a very stable foundation for the gravel driveway. At this stage, you will definitely need gravel reinforcement materials like grids and meshes. Such products should only be sourced from reliable companies such as MatsGrids. While selecting for the paving material, you should go for the reliable and permeable materials from MatsGrids™. This is mainly because such gravel reinforcement grids and meshes are strong enough for use in either domestic or commercial driveways, car parks and pathways. The products should also be able to withstand heavy traffic and harsh environmental conditions, including weather.
Ground reinforcement grids from MatsGrids are permeable hence allow for full penetration of rainwater to the levels below. Having been produced entirely from recycled plastic materials, these grids are environmentally friendly. Additionally, they are suited for both domestic and commercial applications as they can withstand great loads. With the unique interlocking system, these grids are also very easy to install; with a good contractor, you can achieve installation rates of up to 100 square meters per hour. In addition to being used to pave gravel, they may also be used for grass paving.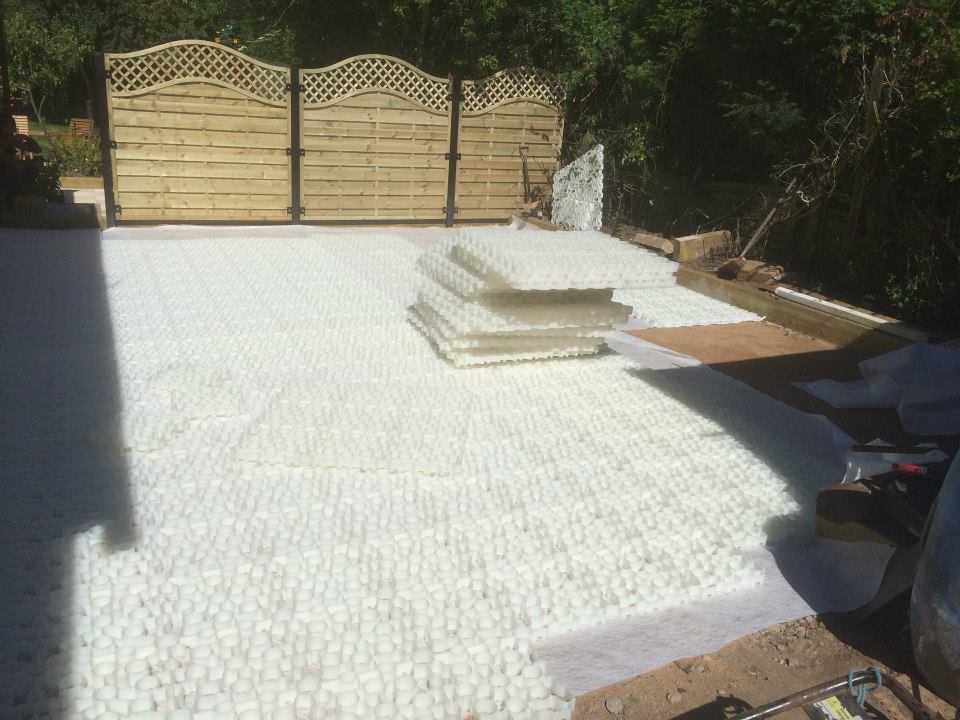 The Gravel
The other important component of a gravel driveway is the gravel. There are various types and diameters of gravel that you can use on your driveway. For instance, you may use the basic road gravel design, the 22A road gravel or the crushed natural stone, also referred to as the 21AA natural stone. Since some of the crushed gravel material contains clay and sand, you should be very careful with the type of gravel you choose. Again, it is not advisable to buy the cheapest gravel as it may contain a lot of dust and brown in color. The natural stone, on the other hand is a very popular driveway material, especially in the soft low areas. It is suitable for use in car parks, driveways and roadways. Though a bit expensive, it is the best quality of gravel to use.
If you are in doubt of the best gravel driveway materials to use, you should contact MatsGrids. They are the manufacturer of gravel driveway grids as well as other products in the country. Their products are also friendly to the environment as they are manufactured from recycled plastic materials.