When setting out on your landscaping or DIY project, you should always be prepared for setbacks or additional jobs making themselves present once you begin working. In this case study, Martin's house was being extended when a project became available, changing his front garden to a driveway. A lot of planning went into this and still there were some unexpected twists and turns whilst creating his permeable driveway. This is something everyone should be prepared for and not let any setbacks get you down. Read on to see what Martin overcame to create his perfect driveway.
Jump To:
The Project
Martin got in touch with MatsGrids whilst having his house extended, once the building work had commenced he found that he could make his old front garden into a driveway which was something that he really wanted to do. As there was a gentle slope to the front garden Martin needed a system that would stop any gravel migration once the driveway was complete. He decided to speak to our Customer Service team via LiveChat to get their opinion on the matter and after a quick conversation ordered enough X-Grid® Permeable Paving Panels to fill his entire driveway. Martin received his X-Grid® delivery 3 working days later and to make things even better Martin qualified for free delivery!
Read on to see how Martin laid his driveway;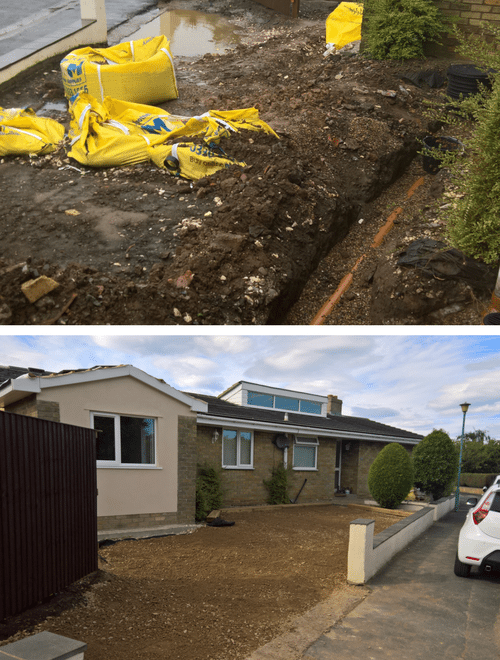 The Work
As with most DIY landscaping projects Martin first did some research on how to install his new driveway, we have number of Installation Guides on our website to help you use X-Grid® and our other products correctly. After reading our guide Martin began to plan how he would tackle the project, he planned out the order in which things would be completed before lifting a finger.
Martin began the work by digging up the entire front garden as well as he possibly could, as you can see in the above photo this left a drain pipe exposed and a lot of mud and soil. This gave Martin a job of levelling the left over materials as well as he possibly could before preparing the sub-base. From here Martin laid 7 tonnes of Hardcore to fill in the hole where the exposed pipe was and the rest of the drive. This was then again levelled as well as possible and compacted very well by using a Wacker before moving onto the next job.
The next job was laying a sheet GeoTextile Membrane which is used as a barrier to stop any weeds or plants from growing up and through the grid and gravel whilst still allowing any water to still drain away naturally. The membrane is secured into the ground to ensure there is no movement in the wind or when stepped on by using Steel U-Pins which act like staples.
With the hardcore and membrane installed, Martin then laid around 3 tonnes of soft sand to create a smooth surface on which to install the X-Grid®. Once laid Martin then compacted and levelled the sand as well as he possibly could.
After the layer of sand came by far the easiest part of the job. Martin began in one corner and laid the X-Grid® one panel at a time until the entire driveway had been covered. Although the driveway an unusual the grids could be easily cut into shape with a handheld saw. Martin told us this was made so easy thanks to the slot and peg system on the panels, it allowed him to quickly attach the panels together and move on.
Finally, with the X-Grid® installed and secured Martin began filling the panels with decorative gravel. Martin decided to use Nordic Granit (20mm) and easily filled each panel until the entire driveway was covered. *Around 8kg of gravel is needed to fill each panel*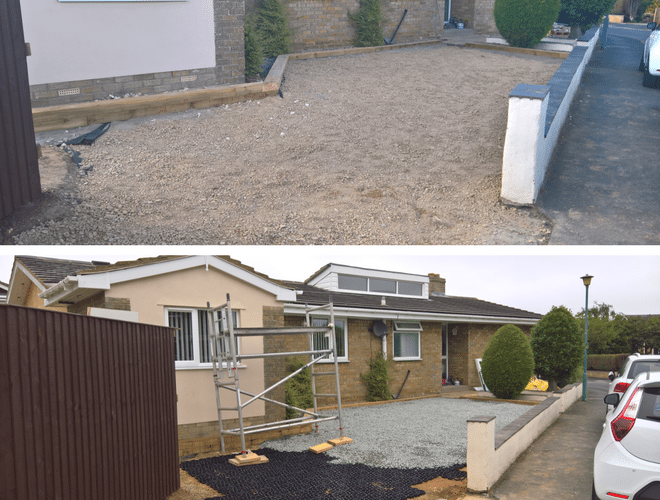 Conclusion
Martin was and still is incredibly pleased with his new gravel driveway. So much so that he recommended our X-Grid® to the builders and electricians who were working on his extension and as a result they are creating their own X-Grid® driveway. We are all in agreement that Martin's driveway looks fantastic and he should be very proud of the work he has done.
"We were so pleased with the finished look and surprised how solid the X-Grid is. There has been little to no movement from the gravel, only that lovely crunchy sound as you drive over it! Thank you very much for your advice through the website and for the X-Grid. Both the builder and electrician who were working on the house as I did the driveway have and are buying the X-Grid for their driveway now."
A huge thank you to Martin for the fantastic photos and indepth information he provided us with to be able to create this case study. If you have any case studies to share with us or any questions regarding our products then please do not hesitate to contact us.