This case study comes from a returning customer who first used our X-Grid as the base for his new garden office. He was so impressed with our product he came back to see if anything we had could help him with his latest project. Read on to see what he used.
Jump To:
The Project
Kevin contacted us again a few months ago after deciding to turn his front garden into a gravel driveway along with two raised sleeper beds, in which he and the family could begin gardening. Kevin had used our X-Grid before as a base for his garden office which worked very well and knew that it would be perfect for his new project.
Kevin went straight to our site, visited the Gravel Driveway Category and X-Grid Product then proceeded to order enough panels to cover his entire driveway! His order was packed and dispatched the same day by our warehouse team and arrived with Kevin three working days later.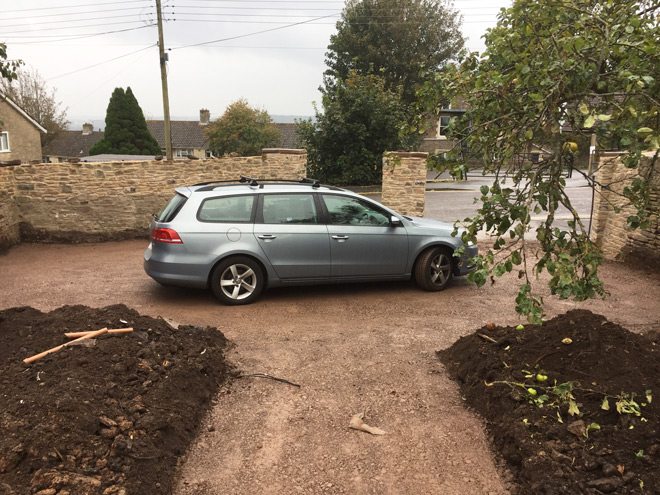 The Work
Kevin's order arrived on a pallet and was offloaded for him via pump truck and stored in his garden until they were required.
Kevin started his project by stripping away and removing the existing front garden apart from two large areas of soil either side of his new path that lead from the driveway to his front door which you can see in the above photo. This is where the sleeper beds would be installed later on.
With the old garden stripped away Kevin began on the sub-base. He laid 150mm of scalpings and compacted it using a compactor to create a solid sub-base. On top of here Kevin began laying his X-Grid. Packed in sheets of 9, it was a case of taking one layer off of the pallet at a time and connecting the laid panels together until the driveway was filled by X-Grid. This took no time at all thanks to our grids being easy to handle and to connect due to its specially designed slot and peg connecting system.
Finally, Kevin filled the now laid and installed X-Grid with decorative gravel (around 8kg is needed per panel). Again this took no time at all and allowed Kevin to spend more time on cutting his wooden planks to create his raised sleeper beds which you can see taking shape throughout the photos in this blog.
A great project overall that looks fantastic!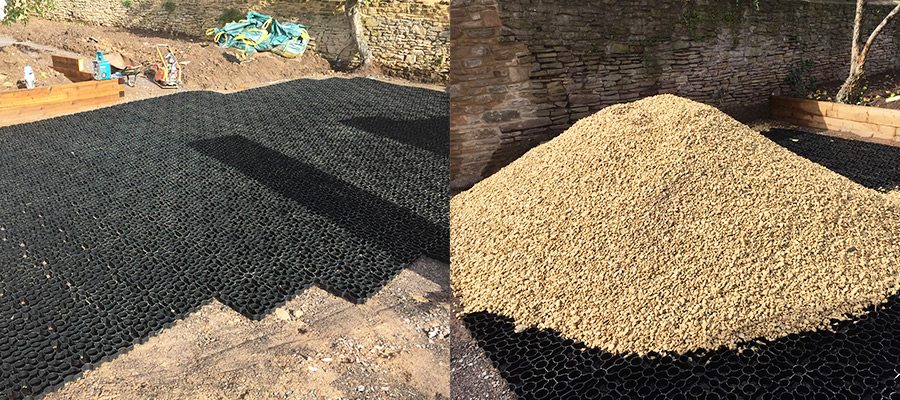 Conclusion
Kevin is incredibly pleased with his new X-Grid Gravel Driveway. There has been little to no migration of gravel so far and no issues with the strength of our grid! We agree his drive and front garden look great!
Kevin told us "I am really happy so far with the X-Grid's stone retention and rigidity"
A huge thank you to Kevin for using our X-Grid again and for sending in photos and information of his gravel driveway installation. Should you have information and images to share with us or have any questions regarding our products then please do not hesitate to contact us.