With three grades of grass reinforcement available, TurfMesh 1400 is our medium duty protection for grassy areas used by pedestrians and medium-sized vehicle traffic on a regular basis.
Just like TurfMesh 1000 and 1800, TM 1400 is made from high density polyethylene which is renowned for its strength and durability. Depending on the quality of installation and other determining factors including the weather and frequency of use, all of our reinforcement products have the potential to last as long as 20 years before replacement is necessary.
Why choose TurfMesh 1400?
Despite its flexibility and ability to mold to all contours of the ground, TurfMesh 1400 is exceptionally strong and able to deal with the weight of anything from small pets to medium-sized vehicles.
TurfMesh is a great alternative to tarmac; if you have a grassy area that simply cannot be out of action then TurfMesh is most definitely the answer.
TM 1400 is an amazing product that will provide safe and easy access at all times; it has the same non-slip surface as our light-duty reinforcement mesh and is therefore safe and practical to use in all weathers. The discreet appearance of the whole range is also a huge benefit and aesthetically your grass will appear as healthy as ever.
Applications
TurfMesh 1400 has the potential for so many applications including off-road parking for domestic and industrial locations, agricultural roadways and woodland paths – it's really no wonder our TurfMesh range is so popular.
If you believe our grass protection meshes could benefit your green areas, don't hesitate to get in touch with our friendly team today. Alternatively, for information on how to install our TurfMesh products, click here or download the documents below.
To see how our past customers have used our TurfMesh, read; TurfMesh – Grass Protection Mesh Installation Customer Review or read through all of our Turf Mesh Blogs.
Technical Specification: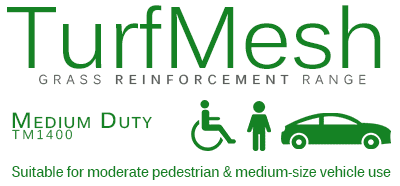 TurfMesh is a recycled, functional, non-aesthetic product and colours may vary between rolls.