X-Grid is a plastic grid system made in Yorkshire from 100% recycled plastic. It's an eco-friendly and versatile alternative to using tarmac or concrete to create solid and durable surfaces which still allow rain and surface water to soak naturally into the ground below.
The green colour makes X-Grid green best suited to grass applications whereby the grass grids are installed and filled with a soil and grass seed mix. Once this has matured, the grid protects the grass root and blade and prevents issues normally faced by grassed surfaces such as on and around campsites and caravan parks, where during colder months the grass can become muddy or impassable.
As strong as it is versatile, X-Grid can withstand up to around 420 tonnes of load per square metre without any in-fill material, making it one of the strongest grids available in the world, while still only weighing just over 5kg per square metre. This makes X-Grid suitable for use where cars, vans, HGVs and even aircraft will be stored, parked or operated without the worry of costly maintenance.
Designed specifically for grass parking applications, X-Grid becomes practically invisible once grass has matured and enables year-round parking without the worry of bogginess, rutting or churn of the surface.
As the grass grid panels are over 90% empty space, this allows a huge amount of rain and surface water to pass through and soak into the ground naturally, unlike common alternatives such as tarmac, concrete or block paving.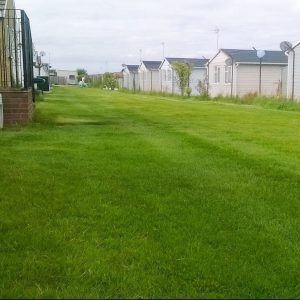 Grass isn't renowned for its durability or willingness to stand up to some abuse during autumn and winter months, however in certain settings such as campsites and caravan parks access routes are often grassed surfaces. These can quickly become churned up and cause the area to look awful and at the worst, impassible.
X-Grid can be installed as a grass reinforcement grid and is filled with soil and grass seed to create access routes and parking which are both durable and attractive all year round.
Suitable as part of a SuDS system, X-Grid is one of the strongest and most widely-used permeable paving grids on the UK market.
Our grass grid panels can be used to form the base of a "rain garden" which basically acts as a water storage basin and are often planted areas with wildflowers and grasses, which too help to naturally mitigate against surface water flooding, something which is becoming increasingly common due to the effects of climate change.