TurfMesh 1000 is a light-duty grass protector which is great for use on green surfaces employed for occasional vehicle or light pedestrian use.
With a natural appearance, this strong and durable meshing is brilliant for use on grassy areas that are prone to wear and rutting. TurfMesh is made from high-density polyethylene and is protected against rot, chemicals and UV damage; it's also hardwearing, long-lasting and simple to install.
Available in three different grades, you'll find a TurfMesh product perfect for your needs whether you're dealing with light, medium or heavy grass use. TurfMesh 1000 is suitable for use by pedestrians and also vehicles with a weight of up to two tonnes – for heavy-duty applications take a look at TurfMesh 1400 and TurfMesh 1800. It also has an impressive life span, with the majority of products lasting at least 10-20 years, depending on the quality of the installation and other factors including weather, frequency of use and the weight of vehicles using the product.
Why choose TurfMesh?
TurfMesh is flexible, easy to install has a highly unobtrusive design. Once installed there's no need to worry about your grass because the anti-slip surface of the reinforcement mesh, its resistance to rot, chemicals and UV damage, along with its natural appearance will leave it barely noticeable. You can weed, feed and mow your grass as normal and your reinforcement mesh will not be affected, meaning you can enjoy up to 10-20 years of green perfection.
Applications
TurfMesh 1000 is a great choice for ground reinforcement in a large number of situations; it's particularly beneficial on grassy areas where emergency or wheelchair access may be required along with pedestrian footpaths, caravan pitches, light aircraft taxiways and areas regularly used by horses (gateways, feeding rings etc.) or other livestock.
Without any kind of grass reinforcement, these areas are vulnerable to weather damage and can become impassable as a consequence. TurfMesh makes your grassed areas more reliable and more resilient, allowing you to use the space throughout the year.
For examples of how past customers have used our TurfMesh then read our blog; TurfMesh – Grass Protection Mesh Installation Customer Review or read through all of our Turf Mesh Blogs.
For installation and fixing advice please take a look at our detailed installation page, or for related products please click here. Our full installation guide can be found in the download tab on this page.
Technical Specification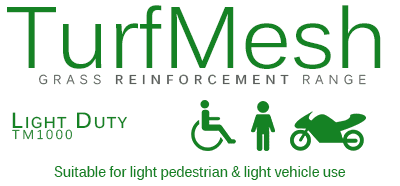 TurfMesh is a recycled, functional, non-aesthetic product and colours may vary between rolls.