TurfMesh 1800 is the heavy-duty installment to our reinforcement mesh collection and can therefore handle the strain of all applications ranging from pedestrian to HGV traffic on a daily basis.
TurfMesh 1800 is not only the strongest but also the thickest of the three grades available. Its 13mm thickness may not seem like a lot but it ensures your grass remains strong and healthy under the heaviest and most regular traffic.
At MatsGrids we pride ourselves on high-quality products that really stand the test of time. All of our grass reinforcement meshes have a potential life span of up to 20 years and, as well as longevity you're assured a safe, hardwearing product thanks to its non-slip coating and resistance to rot, UV rays and chemicals.
Why TurfMesh 1800?
As the thickest of our three reinforcement meshes, TM 1800 is also the strongest. However, this doesn't affect its flexibility or its ability to be installed to undulating landscapes. Just like TM 1000 and 1800, TurfMesh 1800 fits perfectly to the formation of the ground and maintains the unobtrusive appearance of our light-duty and medium duty reinforcements.
Applications
Thanks to its large spectrum of users and the fact that it's a sensible alternative to tarmac mean that TurfMesh 1800 has a long list of applications. TM 1800 can be used in almost any application including everything from woodland paths to emergency access points and grassed roadways to be used on a daily basis.
If you're interested in any of our products or would like an informal chat with one of our expert team don't hesitate to get in touch today.
To see how our past customers installed and used our grass mesh, read all of our Grass Mesh Blogs.
Technical Specification: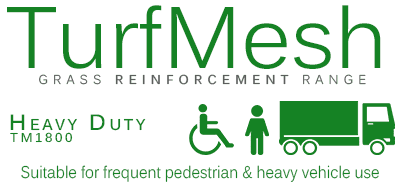 TurfMesh is a recycled, functional, non-aesthetic product and colours may vary between rolls.