Description
MatsGrids™ TP60 porous truck pavers are ideal for roadways, parking areas, Access routes and run off areas used by heavy road going vehicles.
Made in the UK from 100% recycled plastic our TP60 Heavy vehicle surface pavers are suitable capable of carrying up to 60 tonnes which makes them an ideal alternative to traditional concrete truck pavers.
The large open structure ensures maximum surface water run off and allows grass to grow within the open structure creating green parking areas.
Technical Specification TP60 Surface Pavers for Heavy Vehicles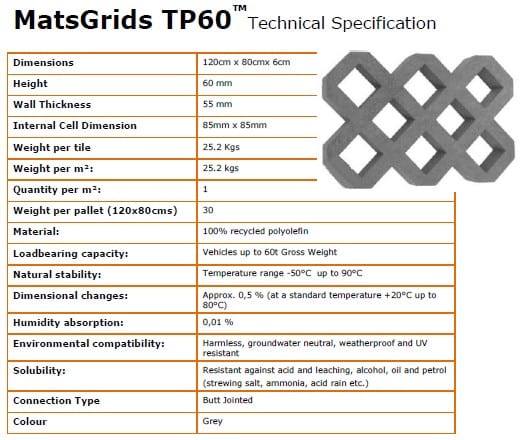 To obtain Price and Availability for MatsGrids TP60 Heavy Vehicle surface pavers Contact us on 0845 838 7511 or email sales@matsgrids.co.uk